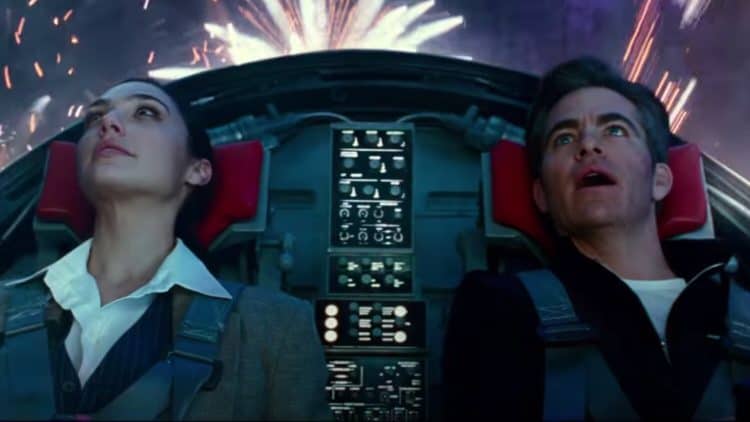 You kind of had to assume that there were going to be those that have already fully analyzed and picked out the many different Easter Eggs that are to be seen throughout the trailer, like Antonia Haynes of Goomba Stomp. Now you've got to wonder just how many are there on purpose and how many were set simply out of a bit of whimsy and perhaps not entirely intentionally but still with some thought to them. Easter eggs are hardly ever completely accidental since through the process of editing directors and their crew members tend to catch a lot of stuff that goes on in the movies and will scour the footage up and down until they get everything they thought didn't work. So with that in mind anything that was found in this movie and pointed out by those that are so into this kind of thing that they go frame by frame and try to divine just about anything that they can come up with that might be pertinent to their egg hunt is bound to be pointed out by someone while another site might find something else that said person didn't. It's a bit confusing really to those that just want to watch the movie and have a good time, but some people live for this.
The whole issue with finding Easter eggs, for me at least, is that it takes some joy out of having to pick apart the movie while trying to find little pieces that might mean something and could have more to do with the plot than most people will see right off the bat. Some Easter eggs are pretty obvious and some are harder to find, but they all mean something, and if a person watches a particular movie more than once they might take notice of several things that they missed the first time around and could possibly see the meaning that they have to the movie that they didn't see before. With movies like Wonder Woman there are so many to be used and so many to be found however that it's hard to really take it all in the first time since one's eyes are drawn to the action and flashy scenes that feature a lot of movement and material that instantly grabs ones eyes and doesn't let go right away. That's bound to be how this movie is going to work since unless people end up watching these YouTube clips they'll likely miss out on a whole lot of information that the director tends to put in and might not expect everyone to get right away. Ciara Woodlow of Film School Rejects has more to say on this matter.
Oddly enough once you've noticed them you might actually miss said items and moments if they were taken out. Easter eggs haven't always been a part of movies, but they've been development that has been growing for years and years now since the idea that people might enjoy a bit of whimsy in the movies they watch is something that many directors have picked up on. Some of them do it just because they feel the need to mess with us a bit and make us pay attention as audience members, while others do it as a throwback to previous movies that they want us to pay attention to. There are a number of reasons for Easter eggs to show up in a movie and it usually has something to do with what the director wants to see and what they want to direct the audience towards. But a lot of them are so fleeting that it's hard to notice them the first time around, since when you really think about it those Easter eggs that people continue to point out tend to come and go so quickly that noticing them is kind of tough unless you're really looking for them and know what to look for. Chris Snyder and Carter Thallon of Business Insider have their own take on this matter.
Again, it's kind of a conditional thing since some people love to look for Easter eggs while others just want to watch the movie and be entertained without having to go through the process of looking for something extra. A lot of people just want to sit down for a couple of hours and turn their brains off, and searching for Easter eggs is a lot harder when you're not wanting to function at full capacity. For others though this is something intriguing and worthwhile and it occupies a lot of their time as you can see from the video above. It's all well and good, some folks get a kick at finding hidden pieces of a movie that a lot of people miss or don't bother noticing, and it gives them a sense of purpose to realize that the director is in fact playing with us in a casual way by injecting this and that into the movie that only real diehard fans might get or understand.