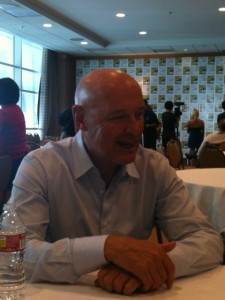 Strange things are happening at 666 Park Avenue (a.k.a. The Drake apartment building). The building is run by power-couple Gavin (Terry O'Quinn) and Olivia (Vanessa Williams), who are definitely up to no good. Essentially, the building seems to be some sort of supernatural hub where elevator doors maim and characters get eaten by walls. After being introduced to the darker side of the building, we meet young couple Jane (Rachael Taylor) and Henry (Dave Annable), who apply for the building manager positions and manage to impress Gavin enough to score the gig. Soon enough, Jane starts to realize that her dream apartment at 666 Park Avenue isn't very dreamy at all.
The stars, joined by producers Matthew Miller and David Wilcox, teased the new ABC show to members of the press at Comic-Con today.
Cracks in Relationships. When the show opens, main characters Jane and Henry are a 'rock-solid, in-love couple', Rachael explained. They've been together for a while and are in a healthy and loving relationship. But, 'as solid as the relationship is in the plot, we're going to watch varying degrees of collapse [of that relationship]'. As Dave put it, 'Henry's ambition could be his downfall'and that ambition could certainly affect his relationship with Jane, especially as she starts to realize things around them are not what they seem.
Temptation is the Word of the Day. 666 Park Avenue is all about temptation, according to Rachael, and how we all have weaknesses. She said the theme of the show is that 'we all have pressure points. You just have to know where to push.'Vanessa went further to say that the show was also about greed and power, whether it's supernatural or monetary power.
Looking Back While Moving Forward. We will be learning more about the backstory of various characters (especially the two main couples), but primarily as it relates to the current story. David explained that the series will fill in backstory and push the story forward at same time. The audience will learn who these characters are and what they want as these characteristics relate to the story that is unfolding.
New York Power Couple. While Jane and Henry start off as a loving and cute couple, Gavin and Olivia are meant to be a very alluring and seductive couple. Vanessa likened them to the Madoff family: very wealthy and envied, even if you didn't know what was going on behind the scenes. But beyond their mysterious actions within the building, they also have a history. In the pilot, a daughter is mentioned, although she's no longer present. Vanessa believes there might be a traumatic history there as they shot a scene for the pilot with Olivia breaking down while look at a photo of her daughter, although the scene didn't make it into the final cut. Vanessa believes we'll learn more about the daughter as the show progresses.
Getting a Clue. Dave said that, while filming the pilot, they discussed the fact that they don't want the characters to live entirely in the dark, or, as he put it, they 'don't want to teeter on these characters being stupid'. They've talked about the possibility of the characters like Jane and Henry getting a clue and trying to leave the building at some point, only to learn that they can't. Whatever the reasons they are forced to stay in the building, don't expect the characters to be oblivious as to what's happening at 666 Park Avenue.
Everyone Loves Terry. The rest of the cast gushed about Terry O'Quinn and Dave and Vanessa in particular said that his presence on the show was a big selling point for them to sign on. David explained that Terry 'has such charm, mystery and menace wrapped up in one [person]'.
Beyond 'Evil'. Don't label the bad guys on the show as simply 'evil'. Terry said that he's interested in playing a character who can be more complex than just evil.
Character Unto Itself. The Drake apartments are a beautiful set and, according to Matthew, should be considered a character unto itself. Jane will be learning more about the building and, through her, the audience will be learning more as well. Every door or room could lead to something mysterious, but don't expect every secret to be revealed too quickly. If we learn too much about the building too early, then the mystery and allure of the Drake will quickly be lost.
666 Park Avenue will air on Sunday nights at 10:00 p.m. ET/PT in the fall on ABC. Watch a preview for the series below.