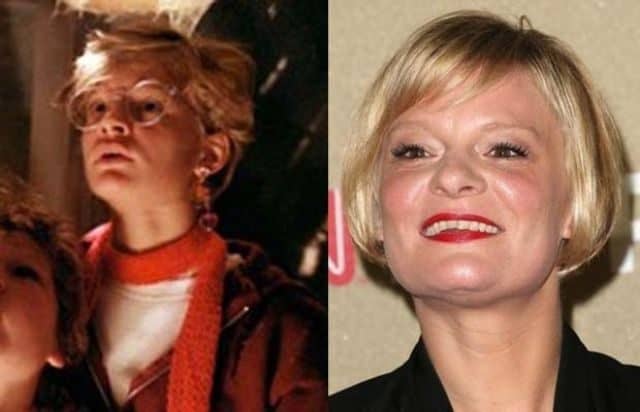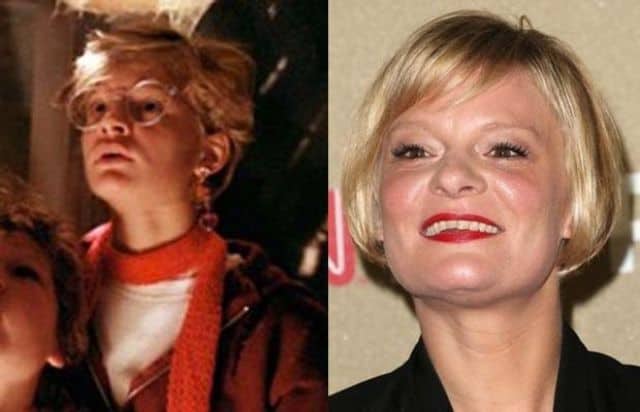 Giving Martha Plimpton a tribute is only fair since she's been one of the most prolific actors that still remains so low key over the years. Her career has spanned at least a few decades and despite the fact that she was acting well before Goonies it was still this movie that put her over and made her into a recognized star. Her role as Steff was perfect since she became part babysitter, part adventurer, and had an attitude and a mouth on her that fit the part perfectly. Throughout much of her career Martha's onscreen attitude has been her calling card and something she's used to get her characters noticed as well as to keep the audience entertained. Her career onscreen has been something that some people might call underwhelming but if you were to ever watch her films and TV appearances you might get a different idea of just why she's so great.
In the 80's she actually started out as a model for Calvin Klein, becoming the tomboy that she would portray so often when she finally made her debut in film. Her first foray into Hollywood was for a film titled Rollover in 1981. In 1984 she appeared in the film The River Rat with Tommy Lee Jones. Of course we all know about The Goonies in 1985, but she also made an appearance on the popular show Family Ties that same year.  The rough and tough attitude that she affected was what people expected to see after a while since it fit her so nicely. Thus it was no surprise that when she showed up in films like The Mosquito Coast and Shy People she was seen as more than a little rebellious and not inclined to listen to authority or parental figures. This continued onward with Running on Empty in which she starred with River Phoenix and would go on for a while up until she hit the theater. She performed in a regional theater in Seattle, Washington for a time and then started making appearances in Indie films as a supporting actress. Plimpton went on to star in several other films during the 80's and achieved rising success throughout career in the 80's, and tried to keep that ball rolling into the 90's. Unfortunately as time went on and she continued to act things got a lot more competitive and while she did continue her act Martha had to take roles that weren't quite as prominent and didn't deliver as much attention as those that she'd enjoyed previously.
Her part in the film titled Pecker wasn't that extensive and nothing she'd done in this decade seemed to be working as it did in the decade prior. She remained a skilled and very desired actress but in the 90's it seemed like her talent was going to waste on films like Stanley & Iris, A Woman At War, and Daybreak. During this time she was also involved with the Steppenwolf Theater Company was still active onstage. As of the 2000's she was on a slightly better role as she started making more TV appearances. She was seen on Law and Order: Criminal Intent more than once, and was also seen on Law and Order: SVU. Martha also had a guest spot on shows such as 7th Heaven and Surface. At this time she's been seen on TV in shows such as The Real O'Neals, The Good Wife, and a few others. She almost seems to be slowing down a bit but it could be she's just getting more selective and more involved in the world outside of Hollywood.
Aside from work she's taken up the role of an abortion rights campaigner and has lobbied Congress on behalf of Planned Parenthood. She has also revealed that she's had an abortion more than once and is a firm advocate for letting women choose what they are going to do with their bodies. Martha is also a very vocal advocate for LGTB rights and has stated that transgender rights and abortion rights are linked. There's no wonder that her characters are so outspoken and vocal most times and can be a virtual handful for the people onscreen to deal with. No matter what or who she plays onscreen, Martha is a very fierce individual at all times and is willing to put her reputation on the line when she feels the need. Her devotion to her work and to the causes she champions is something that's both marvelous and inspirational since not only is she still acting but she's also trying to make the world a better place for all those concerned with their place in it, particularly those that want more control over their bodies and their own fates.
There's something to be said about a person that's so willing to go against the grain and demand equal rights for others.