90210 just keeps getting better and better this season, but dare I call it Melrose Place for the Younger Set? We got two wild story lines tonight that weren't only random, but reeked of vintage Melrose in nature, as well.
The Cannon Has Been Fired!
Good riddance, you slime, we so didn't want to know thee.
Naomi finally built up the courage to send Cannon packing, but the police never caught the S.O.B., meaning he's liable to pop up again in a Jasper minute, which scares the bejeezus out of me. Too bad Ryan Matthews was a casualty in the fracas, but I'm sure the school will reinstate the guy after all the evidence Naomi piled up thanks to the unlikely help of Oscar. Speaking of which…
Divy is Done
Oscar's appearance last night had me wondering what more could he do after throwing a grenade at Laurel and Ivy, but the writers gave him sort of a pass by having the Brit help Naomi with her issues. That doesn't mean Oscar's reign of terror went forgotten.
Ivy broke the news to a confused and upset Dixon, who left our surfer girl high and dry. While I get his pain, I still have to blame Dixon for this faux pas even taking place . You tell your girlfriend that you prefer your ex over her after she admits she's a virgin is a huge blow. Ivy was at a vulnerable place after being served her walking papers and a vulture came to pick at the weak spots in her psyche and soul. If Oscar had not gotten to her, then someone else probably would've. Then again, Ivy isn't just any female. She would've managed. I think.
Teddy's Getting Closer To His Destiny
With Silver not available to be used as a shield, Teddy is becoming more trapped than a contestant running through the Assault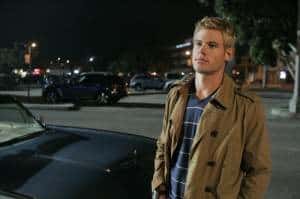 course on American Gladiators. Everywhere he turned, tennis balls of revelation flew at his head, making the former ladies man not know how to deal with his new situation. So in trying to cope, Teddy turned to some wacky tobacky to solve his problems, but only made them worse by alienating his friends. Ian also noticed Teddy is becoming more uncomfortable in his skin. It's only a matter of time folks.
Good Guy Navid
Talk about a potential pairing no one saw coming (unless you read spoilers). Navid and Silver seem like an upcoming item, especially after Silver had a front row seat to witness Navid's good heart at work. Personally, Harper would've just had to work that summer, but that's just me. Too bad Adrianna isn't paying attention to what she has, because Navid can only be her punching bag rock for so long.
Now, For The 'Melrose'-like Insanity…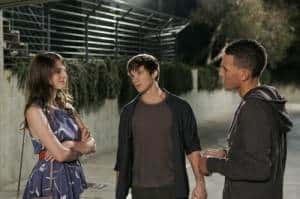 The Drugs In Liam's Handbags…
I knew that Laura character was sketchy, but the drugs I thought she was possibly swimming in were of the prescription variety. I had no clue she was a pocketbook peddling drug smuggler. Liam is not having a good year at all, people. I wonder if this is one trick in Laura's bag of crazy or if she has something else up her sleeve? I give this story line the Sydney Andrews Ends Up in a Cult Melrose Badge for it's potential.
The Girl Who Starred In A Porno
Navid finds out that the reason his new locker partner has dissed him is because she starred in one of Navid's father's pornos. Wow. This underage porn star tale gets the Sydney Andrews Prostitution Whore Melrose Badge for similarities in nature. I could also give Adrianna's story line the same badge, because she's pretty much entered the fame whore stage.
So are you guys glad to see Cannon "gone"? What about Teddy's coming out tale? Don't you agree that 90210 is on a creative high this year? Speak on it below.