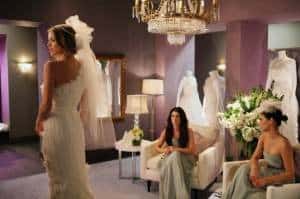 Naomi had a big announcement in the last episode of 90210: she and P.J. (guest star Nick Zano) are getting married. We know he's really just doing it to gain full access to his trust, but Naomi seems pretty gung-ho about this situation.
When 90210 returns on April 24, Naomi's friends believe she's rushing to the altar. To help calm their fears, Naomi and P.J. throw a party so that he can be introduced to everyone. But one of Naomi's former boyfriends – Austin (guest star Justin Deeley) – is also returning to town. Will he catch Naomi's eye again? Whether their relationship is rekindled remains to be seen, but he will be offering to act as Adrianna's new manager and suggests that she try a career in country music.
Caleb continues his involvement with the group when he worries about Ivy's emotional stability as well as dealing with Annie's confession that she is falling for him. Caleb's not the only one confronting a potential relationship, because Navid is still in town and Silver is feeling rather conflicted about her feelings for him. Her recent dalliance with Liam certainly doesn't make the situation any easier.
Watch a preview below for the April 24 episode of 90210Â . What do you think of the dress she's wearing?