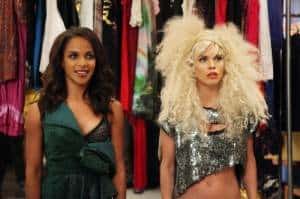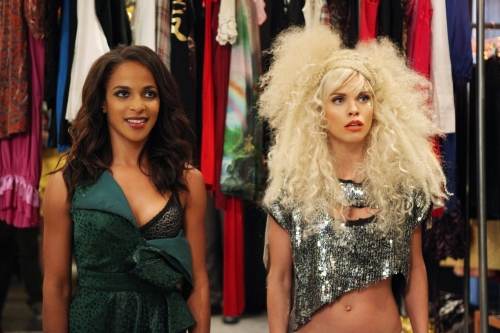 The 90210 gang celebrated Thanksgiving in this week's episode, although their holiday plans didn't exactly turn out. Austin returned to spend the holiday with Naomi, who was desperate for the two to reconnect through sex. But he wasn't really into their physical relationship at the moment. When he left her at the top of a mountain after a fight while horseback riding, she got stuck in some rocks and ended up starting a bush fire. Austin eventually rescued her, but revealed that his parents are getting divorced, which is why he's been acting so weird.
Meanwhile, Liam had wanted to host a Thanksgiving dinner for his friends at Naomi's house. Unfortunately, he wasn't exactly the domestic type. His mother ended up dropping by for a surprise visit, but it was just to get some cash from her newly rich/famous son so she could leave her husband.
Annie was concerned when she found out that some girls in the escort ring had been busted for prostitution, but she hasn't been questioned yet. Dixon ended up telling his friends that he was a drug user. Ivy and Raj fought about their future, each of them realizing they didn't think they would be married forever when they decided to tie the knot because of Raj's illness. They reunited in the end, but then Raj got a call that he wasn't cured as he had thought. But instead of telling her he was still sick, he said he wanted to get a divorce.
A new episode of 90210 will be airing on November 29. Dixon will struggle with his drug problem while he reenters the music world. Matt Cohen will return as Jeremy and Annie confronts him in order to gain access to her inheritance. Naomi and Holly will both be attending a Janice Dickenson fashion show (with Naomi acting as a model), but the two will get into a fight and embarrass themselves. Finally, Teddy returns to town and will announce a big decision.
Watch a trailer for the November 29 episode of 90210 below.