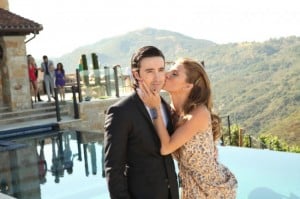 Naomi and Max may have gotten married, but their honeymoon is going to have to wait in next week's episode of 90210.  After the wedding Max is told by his partner Alec that his recent wedding has affected their tech company's stock.  So the newly married couple decide not to go on vacation.  Instead, Naomi decides to throw a fancy party in order to show the company's investors that their marriage is solid.
Adrianna is in for a surprise when she learns that her Vegas one-night stand, Taylor, is joining with Navid and Liam to re-open The Offshore.  Taylor pursues her, but Adrianna insists that it was a one-time thing.
Annie accompanies Dixon to his physical therapy session, but a fellow patient named Riley tells her she needs to stop babying her brother so that he can become more self-sufficient.  Dixon seems to be of the same mind because he explodes at her later at home, insisting that he can take care of himself.
Liam tries to get free of Vanessa by offering to buy out her portion of his movie contract, but Vanessa turns the tables and blackmails him with hidden camera footage in order to get him to act like her boyfriend once again.  The CW warns that "Liam confronts Vanessa after the reception, but their argument is cut short by a shocking accident."
Watch a preview below for the October 15 episode of 90210, airing at 8:00 p.m. ET/PT on The CW.