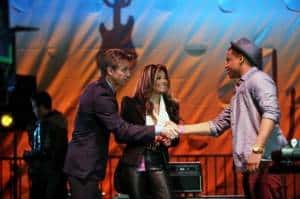 In last week's episode of 90210, Jen refused to take Naomi's party planning business seriously after returning to Beverly Hills in order to find herself a new man. In the end, however, Jen did manage to help her sister land another party to plan…albeit through blackmail, but it's the thought that counts.
Meanwhile, Annie decided to go into the charity business with P.J. (guest star Nick Zano) and Vanessa messed up an opportunity for Adrianna and Dixon to get a gig so that Liam could get it instead.
In tonight's all new episode of 90210, both Naomi and Jen meet P.J. Naomi is enamored with him and thinks he's the perfect buy for her, but Jen also sets her sights on him and the sisters clash. Adrianna also explains her suspicions about Vanessa to Liam and Vanessa immediately tries to make Adrianna look crazy. Adrianna and Dixon also get hired to play at a music festival and La Toya Jackson guest stars as a record company executive who offers Dixon a recording contract. Liam also gets Silver a job as a production assistant on his new movie and the two of them grow closer.
Watch a preview, sneak peek and producer's preview below for tonight's all new episode of 90210, airing at 8:00 p.m. ET on The CW.