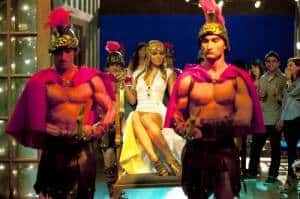 Naomi has found herself with a powerful new enemy after the most recent episode of 90210. After deciding to rush the most popular sorority on campus to restore her popularity (especially after her disastrous party), Naomi soon realized that she was being given much more difficult challenges than the other pledges. Finally, the sorority president Holly told her why: Naomi's recently purchased house was supposed to be bought by the sorority until she got it from under their noses. And Holly is not in a forgiving mood.
Fast forward to the September 27 episode of 90210, where Naomi is determined to fight back against Holly and her girls. Her first order of business will be joining another sorority – the nerdy one – and those girls are completely unprepared for Naomi's interest and her ideas.
Meanwhile, Navid has his own problems now that he's in debt to his uncle, who will be bringing trouble to Shirazi Studios. Ivy will lash out at her friends because she feels they're not acting very compassionate about her situation and Adrianna will tell Liam a secret that will make him see her in a different light.