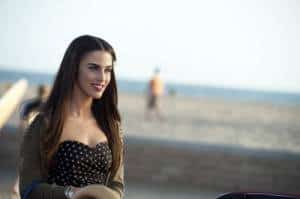 In the midseason finale of 90210 a few surprising things happened. The first is that Silver and Navid finally gave into their attraction and started kissing behind Adriann's back. This came at the worst possible time (not that there's a good time for this sort of thing), but Adrianna's manager revealed the truth that she stole Javier's song book. When we last saw Adrianna, she found the news post about her theft circulating the internet.
Ade's in serious meltdown mode when the show returns with all new episodes on January 24. Below is a sneak peek of Navid and Silver flirting, and then Navid finding out about Ade being ratted out to the media.
It looks like the episode is shaping up to be a big one, because in addition to Adrianna's storyline, Naomi and Silver will be held hostage by Mr. Cannon. You can view a promo for it here.
NAOMI IS TAKEN HOSTAGE BY HER RAPIST

Naomi (AnnaLynne McCord) is taken hostage in her own home by an out-of-control Mr. Cannon (guest star Hal Ozen) who also lures Silver (Jessica Stroup) into the situation. Annie (Shenae Grimes) and Dixon's (Tristan Wilds) cousin Emily (guest star Abbie Cobb, 'Jonas') from Kansas comes to town for an extended visit, but Emily immediately gets on Annie's nerves. Dixon confronts Teddy (Trevor Donovan) about his kiss with Ian (guest star Kyle Riabko) and promises to keep his secret.

During surf practice, Ivy (Gillian Zinser) takes a nasty spill that makes her question her ability to compete in the surf competition. Adrianna's (Jessica Lowndes) world continues to crumble when she appears on a talk show to tell her side of the story, and she is blindsided by a surprise guest. Given Adrianna's disastrous situation, Navid (Michael Steger) and Silver continue to keep their hook-ups a secret. Lori Loughlin and Ryan Eggold also star.
clarissa @ tvovermind.com
twitter.com/clarissa373
twitter.com/tvovermind