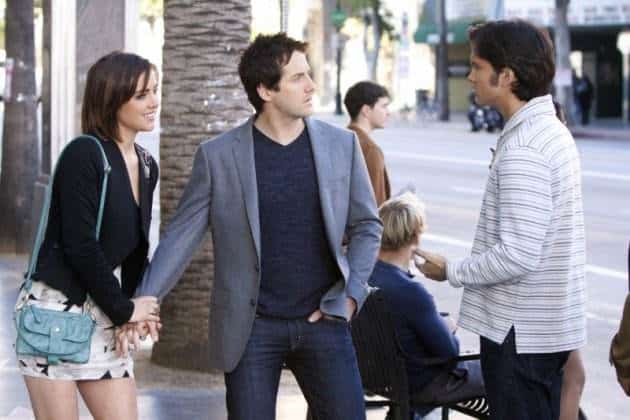 90210 returned with new episodes last week and a few things had changed. Liam is now playing house with Vanessa, the mysterious woman he met after his accident. But he doesn't know that she's actually the one who hit him with her car. Annie is, of course, suspicious about his new woman, especially after accidentally picking up her bag and finding several IDs in her wallet. Instead of heading off to Carnegie Mellon as planned (which is now possible since she regained Marla's inheritance), she's decided to return to Beverly Hills to drive Vanessa away. In fact, the sneak peek for tonight's all new 90210 features Annie confronting Vanessa about what she discovered. While Annie has every reason to be suspicious, it doesn't seem like Liam is eager to believe anything bad about his new girlfriend.
Also, in the previous episode, Navid was determined to figure out a way to bring his uncle down. When Silver finally learned the truth about Navid's recent behavior she called his father back to town and he agreed to turn himself in to save his son. But despite agreeing to help Navid, Silver isn't ready to restart their relationship. She's determined to stay with Greg, but she certainly got one hell of a surprise: it turns out that he adopted Adrianna's daughter. Imagine what might happen when Adrianna finds out about that.
In tonight's new 90210, Naomi wants to try and fix Rachel and Holly's relationship, but that ends in the two girls being forced to work together. Will they finally put their past behind them and get along again? Greg wants to take his relationship with Silver even further and asks her to move to New York with him, while Navid also learns the truth about Greg's adopted daughter.
You can watch a preview and sneak peek for tonight's 90210 below, beginning at 8:00 p.m. EST on The CW.