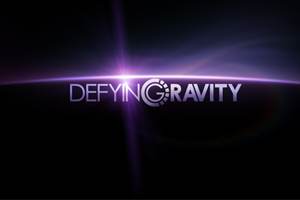 On Sunday, August 2 at 9 pm EST ABC will premiere it's new summer filler series, Defying Gravity which stars Ron Livingston and Laura Harris. But this new series is no filler, and just might be the best new show I've seen all summer. We'll save the full review for later, and instead focus on giving you a first look at Defying Gravity, and to hopefully make you want to tune in for its two-hour premiere on August 2.
ABC says

Four women and four men hurtle through space with nothing to do for six years and eight billion miles, except maybe solve a powerful and awesome mystery. Maybe, just maybe, some of them will even hook up. How cool is that?

Defying Gravity is a sexy, provocative thriller set in the very near future against the backdrop of our solar system, in which the eight astronauts from five countries undertake a mysterious six-year international space mission on the spaceship Antares.

They can't run from karma, however, as their past actions reveal intimate and interconnected relationships that have a strange effect on the present. As the astronauts travel towards Venus, we travel into their past with flashbacks to earlier years from the grueling selection and training process. What could have happened?

Maybe there is something to this fate thing after all.
This is a great summary of the show, but non-sci-fi buffs should take note, this is not your typical, other-worldly science fiction. Defying Gravity takes place in a very near future, with everyday people like you and me. You should also note that central to this story is the relationship of its characters and the mysterious force at play behind the scenes, and not on time travel, crazy science, or some long lost colony from Earth's past.
Defying Gravity is a serial show, with each episode further building on the previous one. Each episode focuses on daily life aboard the Antares, while also flashing back to various moments in the character's pasts in a way similar to the flashbacks on Lost. But don't confuse Defying Gravity as a Lost knock-off, because it's not. They simply utilize the same story-telling device as Lost has made famous (see our original preview article here)
Below are four clips for the upcoming premiere episode, to give you a taste of what you're in store for come August 2. There is also a link to a gallery of promotional images from the show at the bottom of the article.
[media id=58 width=512 height=341] [media id=59 width=512 height=341] [media id=60 width=512 height=341] [media id=61 width=512 height=341]
–