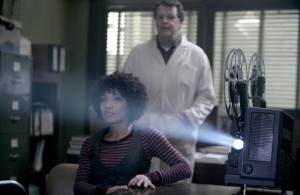 Today, FOX released the new press release for Fringe's unaired episode from season one, "Unearthed." It feautred the general Fringeesque storyline about a girl who was thought to be brain-dead waking up, speaking alphanumeric code, and suddenly knowing all kinds of classified information. It sounds like an average Fringe episode from season one (not a bad thing, mind you, just not as good as the content we've been getting in season two), but the press release then says that "Unearthed" may not be from season one, or from season two. It may in fact be from an alternate universe, the press release claims.
MONDAY, JANUARY 11

–"FRINGE"-(9:00-10:00 PM ET/PT) CC-HDTV 720p-Dolby Digital 5.1

PA: Viewer discretion is advised.

GIRL WITH UNEXPECTED TIES TO A MISSING SOLDIER REQUIRES SOME FRINGE INTERVENTION ON A SPECIAL UNEARTHED EPISODE FROM SEASON ONE OF "FRINGE" AIRING FOR FIRST TIME MONDAY, JANUARY 11, ON FOX

After a teenage girl is pronounced brain dead, her mother takes her off life support, but when doctors operate quickly to remove her organs, the deceased girl shockingly awakens screaming an alphanumeric code. Equally as perplexing as her resurrection is that she is now somehow able to speak Russian and possesses classified information only a high-ranking soldier would know. While the girl's mind-bending condition intensifies, Walter dusts off some old lab videos and hypothesizes the unthinkable, sending Olivia and Peter to investigate the bewildering case in an original "Unearthed" episode of FRINGE and here's another mystery: is it an unaired episode from Season One or is it from an alternate universe? airing Monday, Jan. 11 (9:00-10:00 PM ET/PT) on FOX. (FR-121) (TV-14 L, V)

Cast: Anna Torv as Olivia Dunham; Joshua Jackson as Peter Bishop; John Noble as Walter Bishop; Lance Reddick as Phillip Broyles; Kirk Acevedo as Charlie Francis; Blair Brown as Nina Sharp; Jasika Nicole as Astrid Farnsworth
I have no idea what that's supposed to mean, but I think it's just FOX having fun with the fact that Fringe has alternate universes (it doesn't mean that the episode takes place in one, because Peter is not in the universe "over there"). So take this press release with a grain of salt, but make sure you tune in to the episdoe, which airs after House on January 11.