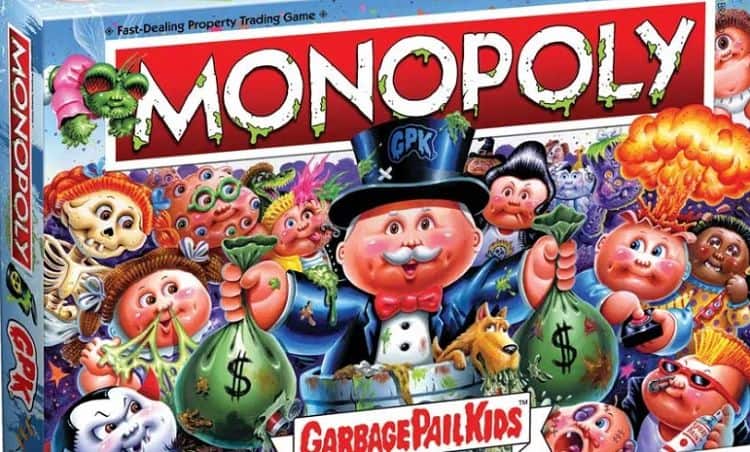 It's obvious that Jeremy Dick of MovieWeb has just the right sick and twisted kind of humor that allows him to enjoy the Garbage Pail Kids but it's also kind of obvious that enough people still revere these grubby little Cabbage Patch rejects since otherwise a Monopoly game, one of the most versatile games ever, wouldn't have been created featuring their gathered likeness's. If you can believe it, 35 years have passed since these grimy little trash bumpkins were brought to the attention of the public, and there are still plenty of people that happen to find them insanely amusing and have a vested interest in getting their hands on anything that they can find with the GPK's on it. For some these little buggers are the antithesis of their progenitors, the Cabbage Patch Kids, but even after being sued for likeness rights back in the day they still maintained their popularity and even managed to outlast the more innocent dolls that helped to give them their appearance in the first place. Some might want to say that the appalling images that have been printed on the trading cards for so long are a good indication of how someone managed to take a pure and very cute idea and subvert it for their own ends. Well….duh.
It's not really certain just how altered the game of Monopoly is going to be but it's likely with a GPK theme that there will be plenty of gross-outs and moments during the game when people have to stop and laugh at the absurdity of it all since anything with GPK on it is going to be just flat out ridiculous and laughable in a way that invites toilet humor and everything that goes with it. That's the charm of the GPK after all since they're not there to be anything but gross and they're not designed to be cute and cuddly like the Cabbage Patch Kids. That's not their gimmick or their hook, they're there to be gross, disgusting, and altogether controversial since that's how they were designed all that time ago and that's how they've maintained their place in pop culture for so long. It's fair to say that their popularity took a hit throughout the years since they've almost disappeared at some points and were almost undone by the less than stellar movie that was created using only a handful of the characters that people apparently thought were most popular back then. But thankfully even with lowered expectations and not much going on the GPK have continued to emerge now and again as favored pop culture characters that one could say have been kept around largely due to nostalgia.
Does anyone else remember having a stack of these at home? If you did it usually meant that you had an average to very sick sense of humor as I can recall my mother attempting to throw my stacks out when she couldn't get me to do it on my own. Of course these weren't something you could tell your parents would appreciate in value if you kept them around long enough since let's be fair, while there are cards worth quite a bit of money they're exceedingly rare and the reasons behind this are kind of hard to explain in one sitting since there are a great number of differences between various cards and even similar cards that are printed in different languages, versions, and even in different batches. Knowing if you've got the one that's worth a good deal of money is exceedingly tough if you're not an expert and see the cards as more of a good laugh than an investment. Meredith Woerner of Gizmodo might be able to tell you more, but unless you're willing to take a chance on spending a fortune to find the right card then it's likely that you're better off just enjoying the GPK for what they are, a bunch of colorful, off-color humor cards that can put a smile on your face.
So far what's known about the GPK Monopoly game, apart from its theme and the fact that the pieces will be altered to fit the idea, is that it will retail for around $39.95, though no one knows where at this point. Chances are it will be on Amazon, possibly in Barnes and Noble and other booksellers, but until it comes out there's nothing that's certain apart from the fact that fans will undoubtedly want to give it a try. For the sake of nostalgia a lot of people might just buy it and see what it's like before boxing it up and putting it away again to preserve the value. That's how a lot of collector's think, though some of them might not even take it out of the box. It could be fun, you never know.