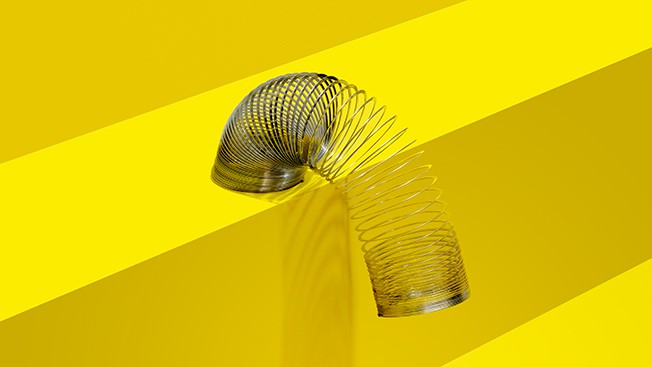 If you're thinking of watching a movie that's nothing more than a metal slinky making its way down the steps for a while then you'll be pleasantly surprised to hear that it's about the creator and the creator's wife, who took over as CEO of the company when he took off and left her with a failing company and six kids. As a story of hardship and success, it's definitely one that quite a few people are likely to be interested in since the slinky is something that's been a part of many lives for quite some time since it's one of the simplest yet most recognized toys around. As a movie idea, it sounds like something that's bound to be a story that will require a great deal of interest from viewers that are interested in the history behind it since it's very easy to take the slinky for granted since it's been done and redone and replicated over and over until the novelty of it has worn off over the years. And yet it's undeniably one of the more popular toys that's come around since it's endured for this long and will probably be around for some time to come since it's one of those ideas that doesn't always fit in everywhere but is still hard to get rid of.
For something that's such a simple idea to have come to the creator by accident is something that a lot of people have hoped for ever since some of the great ideas that have 'just happened' and have no rhyme or reason to them. The creator, Richard James, was working on a way to keep ship equipment steady while it was in use, and after knocking over a bunch of springs he noticed how they moved so effortlessly on their own after falling off the table. Thus, the idea for the slinky was born, especially after his wife Betty came up with the name. She helped him every step of the way more or less, but when he decided to join a religious group on their way to Bolivia, he ended up leaving Betty and their six children behind as she figured that the move wasn't the best for them. She was right no doubt, but she was also bankrupt by the time he left since Richard didn't appear to be much of a businessman when it came to his finances. She up and moved her family after he left, heading back to the hometown that she'd grown up in. Betty also moved the company with her and continued to push the slinky for all it was worth, which ended up being quite a bit since she continued the line and stopped using the same materials to cut down on cost. Obviously, this meant using a weaker metal, but if anyone had a slinky when they were younger then they know that it took a bit of abuse to really damage a metal slinky.
A movie about this toy might sound a little bit dry, but it does sound like it could be enticing simply because it will likely show the perseverance that Betty had to have in order to keep her family together and keep the business running. On the upside of this, several of her children were old enough to help out with the home and with keeping everything running well in the household once their father left. It's not an attempt to state that things were easy or entirely okay, but it does show that there was a strong enough family dynamic there that things were able to move forward even in a time of hardship. It's hard to imagine a man leaving his family for a religious order, or for any reason despite the fact that it happens, but it is uplifting that Betty was able to keep the business going and her family secured since otherwise, things could have gone a lot worse. For this reason, the movie is bound to be the type that will be used to give people hope since the story of someone that has to go through a great deal of hardship for one reason or another usually ends up being something that people will want to watch. At some point, the slinky will be a major selling point of the movie, but one can easily guess that Betty will become the main character that will drive the movie since a toy is a great plot device, but more often than not, it will be that and little else.
It could be a decent movie to be certain since the mere thought that someone would make a movie out of this idea is kind of odd, but when a person learns the history behind it, the interest might rise in a big way.