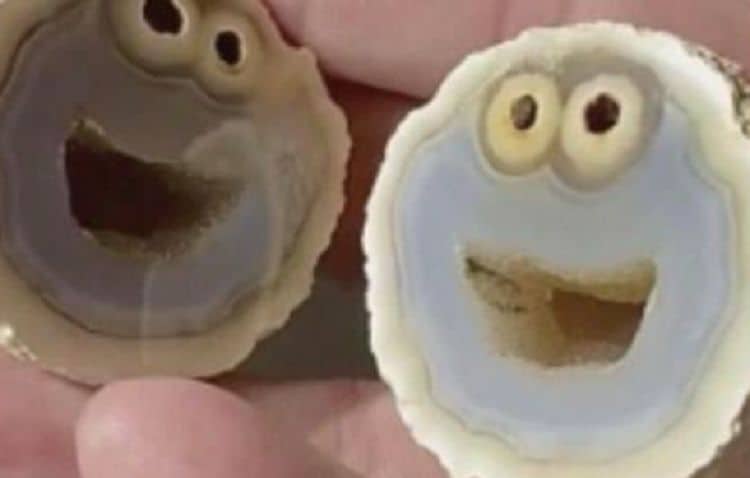 Nature is a funny thing sometimes, especially when it produces images such as this that might not mean anything people that don't watch Sesame Street or haven't even heard of it. Yes, there are those folks out there since as popular as it is the show hasn't been shared with every last person in the world. But this rock formation is still pretty interesting since opening up this less than attractive rock revealed a formation that looked exactly like Cookie Monster, the blue, cookie-obsessed character from the famous show. One can only guess just how rare this kind of thing is since other faces and recognizable forms have been found in the past, but this is one of the best representations possible, good enough that some folks might want to believe that it's nothing but a hoax. If it is then it's one of the best that's ever been devised, but a lot of people are already looking at it as a miracle of nature, and collectors are already willing to pay then thousand or more for it since the occurrence is that rare and apparently they need to do something with their money other than anything responsible. That was a bit cynical, wasn't it? Well, there's a reason since as impressive as this rock is, the idea of paying thousands of dollars for a rock that is pretty cool-looking but is still essentially something that formed in nature, like so many other things, is kind of silly.
As cool as this rock is, it's not going to feed anyone, it's not bound to solve any of the real-world issues that people want to see solved, and it's not going to do anything other than sit in a collection once it's been purchased, and the idea of spending $100,000 on this thing is evidence that a number of people out there have too much money and too much time on their hands. While it's not a cry to defund the rich, it's simply an opinion that spending this kind of money on something like this is beyond ridiculous since that's $100,000 that could go for so much else. Maybe it comes from being raised by those that feel that money should be able to purchase something worthwhile and something that could come in handy at one point, but the only thing that this rock could come in handy for would be as a weapon if the need ever arose since it could pack one heck of a wallop if it was chucked at someone. Apart from being an amusing find though the value is something that feels as though it's been blown way out of proportion, even if it is something that's increasingly rare. The value that people put on things is sometimes a bit screwy simply because it's hard to figure out how anyone came to the amount that they're talking about. Think about it, one hundred grand, for a rock…a ROCK.
There are some people that will be able to make sense of this and others that will think along the same wavelength that a rock is not possibly worth this much, no matter the differing opinion that comes with such an argument. But this is one of those times when it's wiser to say to each their own and simply let it go since trying to make heads or tails of why someone would pay that kind of money for this thing would ever be a part of the discussion is bound to lead people in circles without any worthwhile conclusion. Just stating that nature is odd in and of itself is kind of enough at this point, whether one is talking about the natural world or human nature since both can be kind of unpredictable and beyond imagining at times. In any case, seeing a rock formation that's so close in appearance, spot-on actually, to a popular figure in pop culture is kind of interesting, but it's not small fortune interesting to a lot of people given that there are a lot of things in nature that we could look at and say that they resemble one character or another. The fact that there are people willing to pay massive amounts of money for this stuff is beyond what a lot of people would think of as rational since the kind of money that's about to be laid down for this thing could probably be a nice down payment on a home or a couple of very nice vehicles or something equally as nice for those that might use it in a useful manner.
But buying a rock for a collection, really? It's cool and all, but there are times when those that have that kind of money tend to make themselves look bad without any help but frittering it away for reasons that many others can't see.