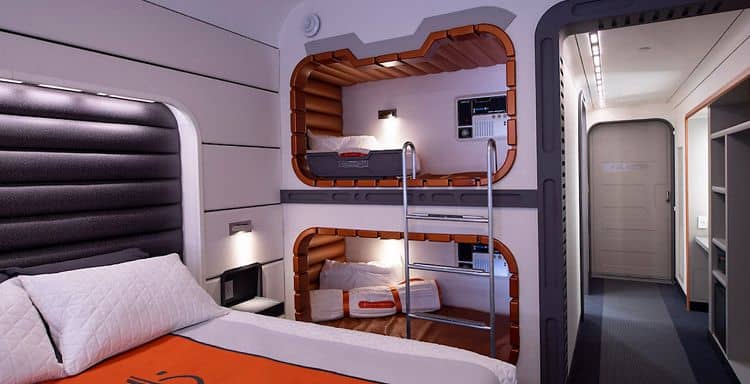 As you might guess, the in-person expo for the Star Wars: Galactic Cruiser hotel room was canceled due to the pandemic, but the pictures and the descriptions that are being touted around the internet are bound to show at least some of what people can expect whenever the attraction is allowed to start taking on guests. From what the pictures show it's bound to be something that will be a fun and engaging experience for everyone involved, particularly kids that are into Star Wars since it sounds as though there will be character interactions, lightsaber training, and other fun activities that are being planned for the stay. One can imagine that this isn't going to be a cheap stay since the cost of creating each room in this manner is bound to be kind of spendy. But for the experience it's likely to be worth it, though the rooms are probably going to feel a bit cozy so as to simulate the idea of actually being on board a starcruiser traveling through space. It will be a standard room for the most part since there will be space to hang and store clothing, a couple of bunk beds set into the wall much as we've seen in Star Wars movies, and a viewport that will show different images of space for the enjoyment of the guests.
The fact that the site doesn't feature a price that's easily seen when one accesses it says a couple of things, one being that it's aimed at getting people excited to take on the 2-day adventure package that's being offered, and two being that it's likely expensive enough that a lot of people are going to realize that it's just not feasible at the moment. Without trying to knock the experience the idea of doing anything that costs a large amount of money is something that a lot of people are going to fantasize about but won't be able to pay for due to the fact that the pandemic has hit a lot of people very hard and while Disney has been hit hard as well, the prices that they've been charging for their attractions, however justified it might be, are currently so high that people need to save up for a year or more to spend two days of fun in the park, and even then the experience is a bit daunting since it's not just the cost of the tickets to get into any of their attractions, but also the cost of anything that can be purchased once an individual is actually inside. What might cost a minimal price outside the park is sold for nearly double or triple what it's worth and sadly, this isn't going to change. To be fair, Disney is doing what it can to offer a top-notch experience and much of what they do to achieve this costs a great deal of money. Thankfully there are plenty of people that are more than ready to fork over wads of cash in order to allow their kids the experience they want and to take a vacation that they'll remember for many years to come.
That is the point after all, to have an experience that one will recall later on in life as one of the best times they've ever had. Those with the money can have this experience more than once and possibly find different ways to enjoy themselves, but for many others that one or two chances they had to experience something this fun will likely be a fond memory that they'll speak of later on in life and want to give to their kids. Disney has established itself as a corporation that is willing to give big to ensure that their guests have a great time in their parks, and have invested their assets in such a big way to continually upgrade and improve upon their exhibits and rides. Many would choose to state that they're still overpriced, that they bilk the public for as much money as they can get, but the thing that does need to remembered is that all of the wonders that Disney provides need to be paid for somehow, since from the janitorial staff to the actors to the engineers and designers that make all this possible, the Mouse House needs every single person to make it happen, and while it does appear greedy from time to time and might not have a great track record when it comes to treating its employees with respect at all times, people are still willing to spend money on this place, and that's why it's still around.
To be clear, this Star Wars-themed hotel is just one of many attractions that people have been willing to pump money into, and for a lot of folks it's bound to be worth the money.