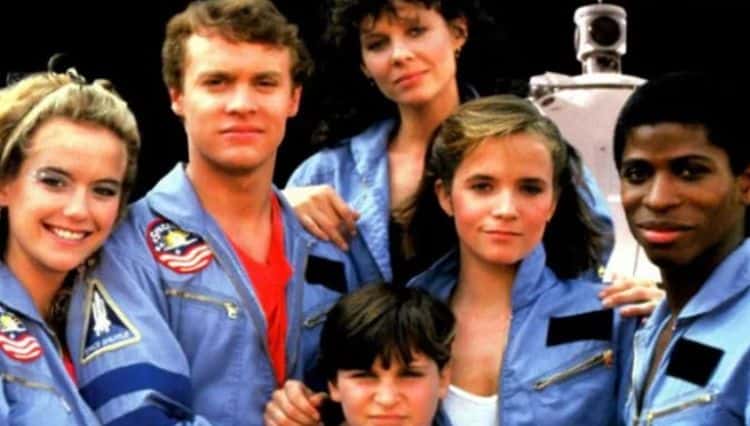 If you remember Space Camp at all you might recall how it was released at kind of a bad time as Kevin Burwick of MovieWeb reminds us. Coming out on the big screen only several months after the Challenger incident of 1986 probably wasn't the greatest idea since the memory was still way too fresh and people likely weren't ready for another accident involving a space program at that point. So unfortunately this tended to work against the movie in a big way, but it was also virtually ignored as it only ended up making around $10 million, which sounds like a lot but in essence isn't all that great since most movies cost several times that to make and need to at least be able to break even to be considered a little bit successful. Unfortunately for Space Camp this didn't happen despite the wealth of talent it had in its cast. At that time however the popular faces that you might remember were already making a big deal in Hollywood, but the bulk of their fame, at least some of them, had yet to be fully established as it's taken years for a few of them to really take off and be counted as movie legends.
Bringing the idea to Disney+ is another way for the Mouse House to supplement their already impressive amount of content with original ideas that will hopefully keep them able to contend with other streaming networks that are already establishing themselves with shows and movies that are being developed exclusively for each network. At this point people are likely starting to feel the pinch as they might be trying to decide just which streaming service they want to stick with since keeping them all is going to be just as much as cable if not more since even with low and competitive prices the number of streaming services is swiftly growing as more and more people are figuring to get in on the act. The streaming wars are heating up in a big way to be sure, but at this point it would still appear that Disney+ is willing to drag up a wealth of old material that can be used again to keep the people happy and entertained. At this point it's a wonder if anyone remembers Space Camp but there are likely to be enough individuals that might have watched the movie and possibly enjoyed it. Matt Goldberg of Collider has more to say on the matter.
It's hard to say just who Disney might get to star in this series but one thing that might be kind of nice is to try and include the original actors, if only for brief cameos, to give the fans a treat that they'll likely remember and appreciate. It doesn't feel as though it would be asking too much to make this happen since a couple of appearances on the series could possibly give it the push it needs to really connect with the fans. Anything at this point is going to be a big up for Disney to work with since The Mandalorian has set an insanely high bar when it comes to entertainment given that it's a Star Wars story and that it was executed in such a way that's hard to ignore since the story was nothing short of great. Space Camp would need to be on point and possibly stick as close to the story as possible while updating things so as to keep it interesting and engaging. Borys Kit of The Hollywood Reporter had more to say in his own words. The whole believable factor might need to be worked on as well since despite how movies and TV shows tend to go when kids are involved, it's still a good idea to keep some realism in the mix unless the plan is to make the show as campy as possible. That doesn't sound like the angle that Disney is going for, so it could be that we'll be seeing a show that's meant to be family-friendly but at the same time is going to keep enough realism in the mix so as to keep it a little edgy and ultimately possible of entertaining kids and adults at the same time.
Whether or not Space Camp becomes another feather in Disney+'s cap it's bound to be a fine bit of nostalgia for those that actually watched the movie since it's bound to jog a few memories and get people remembering something from their youth that they enjoyed. At this point the network kind of has to hurry up and bring forth more ideas so that it can continue to compete with the other networks, otherwise it runs the risk of being left behind and being forced to play catch-up. Disney has enough ideas on the way that it shouldn't be an issue, but this one could be something that a lot of people might enjoy and appreciate.