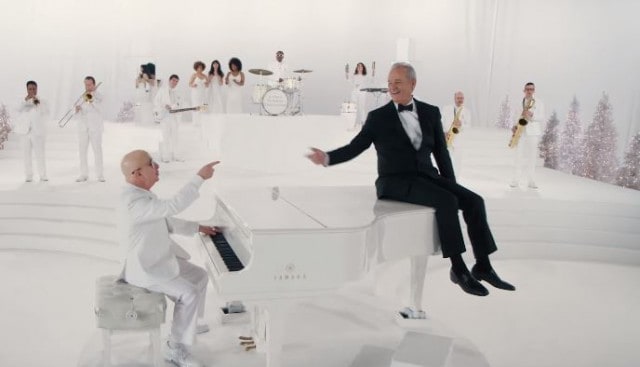 In just a couple of weeks, Netflix is giving its subscribers the gift that keeps on giving: Bill Murray. As previously announced, the streaming giant will be home to the infamous actor's very own Christmas special, A Very Murray Christmas, helmed by Murray's Lost in Translation director, Sofia Coppola.
The first official trailer for A Very Murray Christmas came out today, and it is sure to put even the most Grinch-iest of people in the holiday spirit. Packed into the more than 90 seconds of video below are wonderful jokes, great Christmas music, and a plethora of cameos, from Amy Poehler and Rashida Jones to Miley Cyrus and Michael Cera. Other familiar faces include Chris Rock, Jason Schwartzman, Maya Ruldoph, and George Clooney, who all gather together to help Murray put on a Christmas special, even after New York is shut down due to a horrible blizzard.
However, despite everyone's attempts to make the special the best it can be, the funniest moment of the trailer actually comes when Cera tears into Murray, calling what he's putting on "a sad excuse for a Christmas special." When Murray responds, telling him that they "have George Clooney," Cera delivers an even better reply. "I rest my case," he says. "You saw Monuments Men?"
A Very Murray Christmas arrives on Netflix on Friday, Dec. 4. Check out the trailer below, along with Netflix's official description of the special.
This winter, Bill Murray brings an extra-special dose of holiday cheer to Netflix with the premiere of an all-star musically-driven holiday special, A Very Murray Christmas. Set inside New York City's iconic Carlyle hotel, A Very Murray Christmas opens with Murray preparing to host a live, international holiday broadcast. After a blizzard shuts down the production, he makes the best of the situation by singing and celebrating with friends, hotel employees and anyone else who drops by.
[Photo via YouTube]