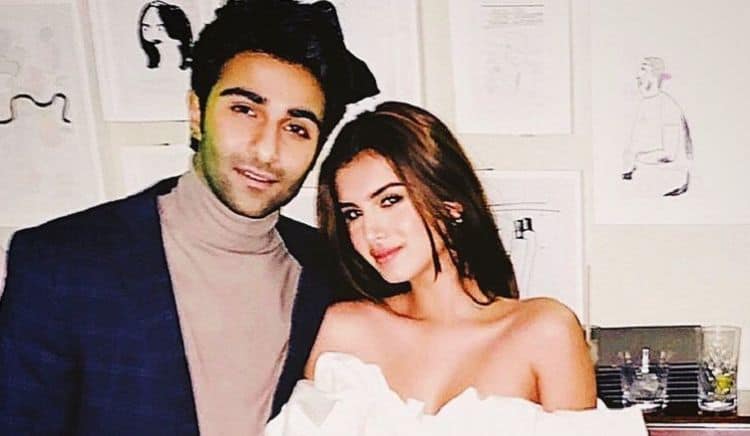 Aadar Jain is still very new to the entertainment industry, but he's already generated quite the buzz. For starters, he is the nephew of the late Indian film director, Rishi Kapoor. On top of that, he is currently in a relationship with multi-talented performer, Tara Sutaria. However, Aadar is determined to step out of other people's shadows and carve out his own path. So far, he is well on his way. 2021 has been a big year for his acting career thanks to his role in the movie Hello Charlie. He is hoping to keep the momentum going with another upcoming film called Khel Khel Mein. Hopefully, within the next few years, he will one of the most well-known rising stars in India. Continue reading to learn 10 things you didn't know about Aadar Jain.
1. He Doesn't Feel Pressured By His Family's Success
Aadar comes from a family with a long line of success in the entertainment industry. Some people have assumed that he has felt pressured to live up to their accomplishments, but that isn't the case. Aadar told India Today, "I have a responsibility towards my work, but I don't feel any pressure. I don't get that feeling that I have to achieve so much or deliver in some way that my grandfather probably did in his films. There's no pressure from my family's or parents' side."
2. He Had A Very Close Relationship With His Uncle
Aadar was raised in a very tight-knit family. He and his brother, Aarman, had an especially close relationship with their late uncle, Rishi. During an interview with the Hindustan Times, Aadar said, "On a personal level, he has been an inspiration for me and not just as an actor. Every single day spent with him is now a fond memory. He was large-hearted and larger-than-life."
3. He Loves The Beach
Everybody needs to make time for themselves to simply kick back and relax, and Aadar Jain is no exception. When the weather is nice, you can usually catch Aadar enjoying it by spending time at the beach. He loves being near the water and soaking up some sun in the process.
4. Some Of The Negative Comments Have Hurt His Feelings
People who work in the entertainment industry often have to deal with lots of cruel comments from people who may not like them or their work. While some people go out of their way to ignore these comments, others can't help but notice. While talking to Indian Express, Aadar revealed that the negative comments do get to him, but he also uses them as motivation to keep getting better.
5. He Enjoys Traveling
There are plenty of people in the world who have little to no interest in traveling. They are genuinely happy being close to home and don't feel the need to experience different places and cultures. However, that's never been Aadar's style. He loves traveling and has been fortunate to visit places like Maldives and Greece.
6. It's Unclear If He's Had Formal Acting Training
While there's no doubt that entertainment is something that is a part of Aadar's bloodline, we weren't able to find any information to indicate that he has undergone any formal acting training. It appears that once he decided that he wanted to pursue a career in acting, he jumped right into the audition process.
7. He Likes To Protect His Privacy
Even though he comes from a pretty high-profile family, Aadar has never been someone who likes to share all of his personal business with the world. He seems to prefer living a more private life and it's easy to understand why. When celebrities start sharing too much with the world, it can have some negative consequences.
8. He Loves Playing Soccer
Staying active is something that has always been important to Aadar. While he probably does have a regular workout routine that includes going to the gym, playing soccer is one of his favorite ways to keep himself in shape and have a good time. He likes to play whenever he gets the chance.
9. He Has A Great Sense Of Style
Aadar has a knack for putting outfits together and it's clear that he loves expressing himself through his clothing. No matter what the occasion is, you should already know that Aadar is going to come through looking sharp. As far as we know, he hasn't done any official modeling yet but he definitely has the potential.
10. He Loves Comedy
Aadar will probably act in a lot of genres over the course of his career, but comedy is one he will always enjoy. Aadar told India Today, "comedy is a hard genre to do, but I also love watching it. I feel laughter is the best medicine. It can uplift your mood. So, I have always gravitated towards comedy films."