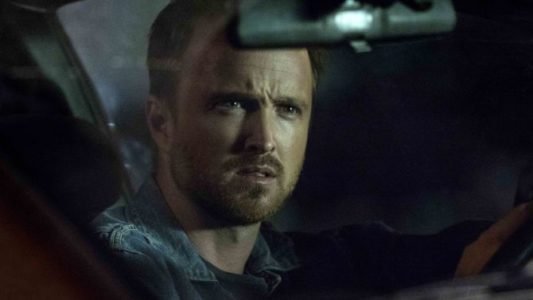 Aaron Paul might be ready to light up the screen again when Westworld hits, and a lot of fans couldn't be happier. Nellie Andreeva of Deadline has already stated that while the creators of the show are keeping pretty quiet on just who he'll be playing it's been confirmed that he'll be a season regular, thereby cementing his place on the show already and making people wonder just what capacity he's going to be seen in. From the trailer thus far it looks as though he's going to be yet another person that's looking to make sense of his world, a lost soul of sorts trying to make things work in his life but finding himself unable to do so. The fact that he comes upon Dolores seems to indicate that he'll be made a part of what's been coming since the second season, and will therefore become important rather quickly.
If that wasn't enough, his shared tweets along with Bryan Cranston concerning what many people believe to be the Breaking Bad movie will also be pushing him further into the spotlight since people are already gossiping at a fever pitch as they try to figure out just what's going to happen and what they can expect to see. The Breaking Bad movie has been something that people have been wanting for a while now, so thinking that it might be coming soon thanks to the tweets that the two stars have sent is just another reason why his stock is probably rising at this point and won't stop or even slow down until it's been determined whether his performance is really worth following still. You might be thinking that of course he's still worth following, but keep in mind that Westworld isn't Breaking Bad, and will offer a new set of challenges to Paul despite everything he's been through at this point in his career. So far he's proven that he can take on just about anything and excel, but Westworld is still a show that differs wildly from Breaking Bad. So far any confidence that one has in thinking that he'll adapt and make the show his new home without fail is pretty high. A lot of folks tend to think that Aaron is easily capable of moving from one project to another while being perfectly capable of displaying behaviors that are just different enough to separate him from other roles that he's done in the past.
There is an interesting theory brought forth by ScreenRant's Craig Elvy about the Breaking Bad movie that's worth sharing and it has a lot to do with Jesse's mental health since there's no doubt that he's going to be the main character featured in the eventual film. The theory goes on to state quite simply that Jesse is going to be haunted by Walter White's ghost, which makes sense really considering all the time they spent together and the times they shared. It likely won't be a pleasant remembrance since Jesse was at his wits end by the time the show wrapped up and he was looking ready to end it for good until he put the gun down and told Walt to do it himself. But this would make a great deal of sense and even further the plot of the movie since not only does Jesse know how to make the blue meth, he might even have to go back to it eventually, or possibly have something to do with it even if he's no longer going to cook. But this could be how Bryan Cranston will be included in the Breaking Bad movie, which makes even more sense considering that Walt is dead and there's no other way to do it save for flashbacks and memories. A lot of fans would likely find this to their liking since not only would it put Aaron in the forefront where he kind of needs to be, but it would also keep Bryan around for just long enough to possibly wrap up the whole story and make it as complete as some folks would like.
Whatever happens, Aaron is going to be in the spotlight in a big way very soon if he's not already and will become a humongous name in show business. It's hard to go back and see the actor he was when Breaking Bad first started and think that he might come this far, but it's also impressive to see just how he's developed and how far along he's come with his skills at this time. There are a lot of people that might know this but it's also likely that are many that don't, but Jesse Pinkman was only supposed to stick around for one season. Thanks to his chemistry with Bryan Cranston though Aaron managed to impress the right people and went on to become a crucial part of the show, and he's been reaping the benefits ever since, and rightly so.