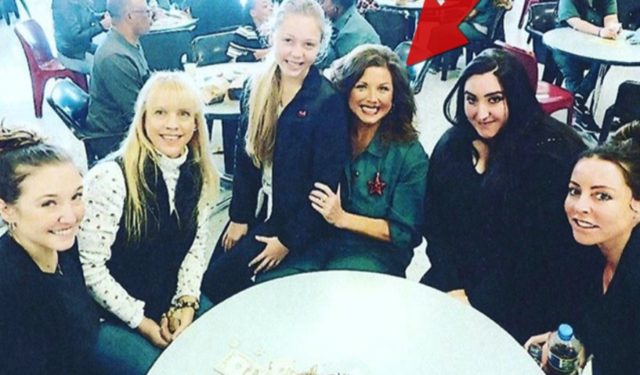 Who knew that going to prison has its benefits? For Abby Lee Miller, the disgraced star of "Dance Moms," there has definitely been at least on advantage, in particular where her weight is concerned. Apparently, she has lost around 100 pounds since reporting to Victorville, CA's Federal Correctional Complex on July 12, 2017 to serve a 366 day sentence for bankruptcy fraud.
Now, before you give her all the credit for adopting a healthier lifestyle, keep in mind that she did undergo gastric sleeve surgery in April 2017. Still, you have to give her props for losing that much in a facility that probably doesn't serve the best food, but does have a commissary full of unhealthy treats at a surprisingly reasonable price. For example, 5 Kit Kats are just $0.85, as are Snickers and Peanut M&Ms. Ramen Noodles are a mere $0.25, while Poptarts and Little Debbie snacks are a tad more expensive at $1.85.
Her Weight Loss Journey
In the past, Abby has said she wore a size 24 when she was at her heaviest. Back in 2015, she managed to get down to a size 16, but quickly gained the weight back, possibly due to the stress of trying to hide $775,000 of income while she was in the midst of filing Chapter 11 bankruptcy later that same year. In April 2017, she underwent surgery and by May she had been sentenced to prison.
How Did She Do It?
In addition to surgery, which definitely gave her an extra push Abby Lee probably took advantage of the prison's healthier commissary items, such as prunes, dates, trail mix, granola, and nuts, along with their lengthy list of physical fitness classes. According to the Inmate Admission Handbook, step and low impact aerobics, yoga, spinning, Pilates, and abs classes are available to inmates, as are calisthenics, circuit training, fitness endurance, stretching, and jump rope. As an added bonus, she could take part in one of the classes on wellness and nutrition. It's worth mentioning that one "insider" reports her weight loss is entirely due to the fact that she is "rarely eating at all," opting to stay "holed up in her cell." 
She Looks Better Than Ever
This past weekend the 51-year-old took to Instagram to show off her weight loss. In the photo, seen above, the beaming star is shown surrounded by visitors. Although she doesn't mention her weight, she did write that she was "feeling great and ready to turn over a new leaf." (Since the post started making its rounds among various gossip sites, it has been removed.) Whether you're a fan of the dance coach/ instructor or not, you have to admit that she looks much healthier and younger in this photo than any of the others taken of her before she reported to prison.
Will She Lose Even More Weight?
Currently, Abby Lee Miller is expected to be released on February 20, 2018 due to good behavior. However, she won't immediately go home. Instead, she'll have to transition to a half-way house in Van Nuys, CA for an undisclosed period of time. Do you think she'll use this time to drop even more weight?