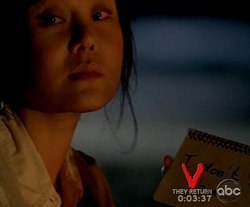 If there's one thing that the internet and social media sites have always been good at, its blowing small, mild annoyances in life up to astronomical scale that only a word such as 'viral' can really be used to describe. If you happen to be a Lost fan and you watched the show last night, then you probably already know what I'm talking about (that, or you read the title to this article). Last night, during Lost, ABC tried an advertising gimmick that pissed off the masses, got the Lost community abuzz with comments, and even got series creator Damon Lindeloff to chime in on the shenanigans via Twitter!
The culprit in all of this was a small but obtrusive countdown clock at the bottom of the screen during Lost, with a logo for V above it, which returned from a very long hiatus last night. I have to admit that during the first five minutes of the show, it irritated me to no end, but after that I sort of just ignored it and hardly noticed it again until the end of the episode. At that point it only became obvious because the stupid thing obscured what was written on a note that Sun had written, and if there's one thing us fervent Lost fans hate, its when you obscure a possible clue. Regardless of my mild aggravation, I was quite shocked at the life this had taken on when I start reading about it across the web. Even writer Alan Sepinwall wrote about it on his popular blog What's Alan Watching, where he ranted in full, and movieline featured a piece on it as well.
I'm certainly not blaming people for being aggrivated, but there does seem to be a bit of over-reaction about this across the web today. For one, I do have to give ABC a little credit for at least trying to get people to watch one of its other genre shows. Those of you who are fans of genre television know all to well that the networks consistently fail to do any reasonable level of marketing for these types of shows, and seem to fail at the same things over and over again. Granted, I could think of tons of ways to make this more effective, as I'm sure many of you could as well, but hey, at least they're trying, right?
Another thing is, the countdown clock, no matter how despised, might have just worked, at least a little. Granted, V did return last night down in ratings, however according to TVbytheNumbers it was only down by a .2 rating from its last episode in the fall. Most insiders seemed to think that the series would have an even more dramatic drop when it returned last night. Another key factor to consider here is the shelf life most shows have when they are scheduled with Lost as their lead in. So far, Lost has killed just about every show that has followed it. Granted, some of those series were horrible, but some should have done better than they did.
So while having a V counter at the bottom of the screen did annoy me slightly, and I hope that they don't do it again anytime soon, I am happy that the network is at least trying to make V successful in its post-Lost timeslot. Only time will tell if this will be another genre show that bites the dust or not. So am I being too lenient on ABC with this countdown clock business, or should we be cutting them a little slack, even if we were annoyed?