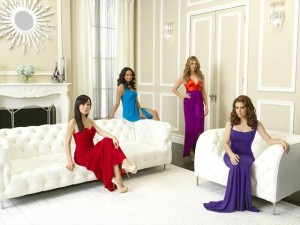 It's hard to believe that summer is quickly approaching. Â ABC recently announced their 2012-2013 season finale dates and now the network has announced their summer schedule.
Here's the summer schedule with some show descriptions below.
Thursday, May 9
8:00-9:00 p.m. Wipeout
Monday, May 20
9:00-11:00 p.m. The Bachelorette (special time period premiere following the finale of the "Dancing with the Stars" performance show)
Tuesday, May 21
10:01 – 11:00 p.m. Motive (new series premiere on a special day and time, following the finale of "Dancing with the Stars the Results Show" from 8:00-10:01 p.m.)
Thursday, May 23
9:00-10:00 p.m. Motive (regular time period premiere)
10:00-11:00 p.m. Rookie Blue
Monday, May 27
8:00-10:01 p.m. The Bachelorette (regular time period premiere)
Tuesday, May 28
8:00-10:01 p.m. Extreme Makeover: Weight Loss Edition
Wednesday, May 29
10:00-11:00 p.m. What Would You Do?
Monday, June 3
10:01-11:00 p.m. Mistresses (new series premiere)
Sunday, June 23
8:00-9:00 p.m. Celebrity Wife Swap (summer premiere)
9:00-10:00 p.m. Whodunnit? (new series premiere)
Wipeout:Â As summer temperatures heat up, quirky contestants go down! This season "Wipeout" will hit the 100th episode milestone, and we'll be celebrating all season long with brand new, over-the-top courses and the return of Jill Wagner to the "Wipeout" family. We'll have lots of special episodes, including Dirty Jobs, Newlyweds, Exes, Beauty Queens and Brains VS Brawn. Also returning are favorite specials featuring Families, Boss & Employee, Hotties VS Nerds and Blind Date. The infamous Big Balls make their return, along with new obstacles such as Octopushy, Space Pod of Doom and The Miami Pound Machine.
The Bachelorette:Â This season the hit romance reality series will feature its ninth edition with the lucky new Bachelorette — Desiree Hartsock — getting to know 25 fortunate men via a series of social gatherings and exotic, romantic dates, some in groups, some individually. She will introduce some of the men to her family and will visit their hometowns for a slice of their lives in an effort to determine the man with whom she is most compatible. At the end of the journey, filled with drama and surprises against the backdrop of spectacular international settings and featuring innovative twists and special guest stars, the Bachelorette may quite possibly have found true love. But the big question is: After all of this, will she hand out her final rose? And if she does, will the final bachelor accept it and propose?
Motive: When murder is committed, Angie Flynn, a loving, single mother and a damned good detective, along with her partner, Detective Oscar Vega, are on the case, looking for clues that will lead them to the killer. But "Motive" turns the tried-and-true crime drama formula on its head by identifying the Killer and Victim at the beginning of each episode. These storylines are then further explored via stylized flashbacks that piece together the mysterious connection between these two characters and what drove the Killer to commit murder.
Rookie Blue: After three years on the job, these rookies are well on their way to becoming experienced officers, but at what cost? It's been six months since Andy McNally and Nick Collins left for their undercover operation. We return to 15 Division with them — and quickly realize that everything seems to have changed. But that's what being a cop is: adjusting to new situations, rolling with the punches. Change is constant, and if you don't adapt, you're left behind. So when Andy returns to find that Sam Swarek is now a Detective and that he's moved on, both professionally and personally, she's going to have to figure out how to deal with it. Meanwhile, Dov's life gets awkward when a one-night stand with Frank's goddaughter becomes more complicated; Chris is torn between staying at 15 Division and moving his new family back to his smaller, safer hometown; Traci is learning to work with new detective Swarek, while trying to move on from the loss of her fiancé, Jerry Barber; And although Nick and Gail have cemented their relationship, Nick can't seem to shed the feeling that all is not right between them. Last season our officers got what they wanted and had to deal with the repercussions. This year they will have to look change right in the eye and learn to adapt — leaving them with some big, bold choices to make.
Extreme Makeover: Weight Loss Edition: The hit series returns for Season Three as transformational specialist Chris Powell, author of the New York Times bestseller Choose to Lose, documents the amazing makeover of 15 courageous, "super obese" people who, in an unprecedented 365 days, set out to safely lose up to half of their body weight, ultimately revealing an amazing metamorphosis. In each of the 13 stand-alone, two-hour episodes, the participants undergo a transformation not only of their bodies, but of who they are as individuals. By assuring they have the proper nourishment and exercise movement, Powell provides a fresh perspective to individuals whose lives have become unmanageable because of their weight. He guides each of the participants through their transformation process by moving into their homes with their families or loved ones. The upcoming season is filled with remarkable and eye-opening changes, including twins who work together to shed weight, a married couple and the inspiring story of an amputee who worked to shed the weight he gained after losing his limb.
What Would You Do? Using hidden cameras, "What Would You Do?" establishes everyday scenarios and then captures people's reactions. Whether people are compelled to act or mind their own business, John Quiñones reports on their split-second and often surprising decision-making process.
Mistresses:Â Based on the hit UK television series of the same name, "Mistresses" is a provocative and thrilling drama about the scandalous lives of a sexy and sassy group of four girlfriends, each on her own path to self-discovery: Savannah ("Savi"), a successful career woman working toward the next phase in her life, both professionally and personally; Savi's free-spirited and capricious baby sister, Josslyn; their friends April, a recent widow and mother of a ten-year-old daughter, and Karen, a therapist with her own thriving practice. These four friends find support and guidance with each other as they brave their turbulent journeys and life's storms of excitement, secrecy and betrayal, all the while bound by the complex relationships they've created.
Whodunnit? Anthony E. Zuiker, the creator of the "CSI" franchise, begins production on his first primetime reality series, "Whodunnit?" Cris Abrego partners with Zuiker for the new nine-episode alternative series that puts 13 contestants' investigative skills to the test in a mystery reality competition. Each week players will use a variety of crime scene investigation techniques to meticulously uncover evidence that will ultimately reveal who among them is the killer. The interactive series will pit 13 amateur sleuths against each other in a quest to solve a series of puzzling murders. Some will form alliances and others will choose to go it alone just to get them closer to the grand prize. The contestants will reside on a glamorous estate where each week they must solve a new crime in order to advance in the game. Failure to solve the crime will lead to a player's demise, until only three are left. In the final episode, one player will unmask the killer and take home the $250,000 prize.