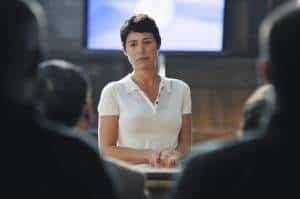 ABC has axed its second show of the year, officially saying goodbye to The Whole Truth, according to an early report from Entertainment Weekly. TV Guide later asserted that network reps have confirmed the cancellation.
While the Maura Tierney and Rob Morrow-fronted legal drama received strong critical praise, its ratings struggled and the show was among those rumored to be on the early cancellation block.
Producer KristieAnne Reed broke the news on Twitter, then told fans that the show is still shooting until mid-December, so the series will fill out its thirteen-episode order. As of now, an original episode is still scheduled to air on Wednesday (though broadcast schedules can change up to the last minute; ask Lone Star about that one). No word on what ABC will do with the remaining episodes.
As for the show's timeslot, Whole Truth was already scheduled to be pushed aside for Country Music Awards coverage: preempted for a interview special November 3 and again for the actual CMA's on November 10. There's also no word on what will fill the hole beyond that.
The news comes on the heels of the network extending full-season orders to No Ordinary Family and Better With You, as well as ordering additional scripts for Brothers & Sisters and the similarly ratings-challenged Detroit 187 (though an additional script order does not mean that those episodes will be aired or even filmed).
ABC seems to be the network fastest with the axe so far this season; two of the three cancellations are from the network (the other, of course, My Generation). One wonders if Whole Truth would have survived had it been at NBC; the Peacock has been forgiving with its freshman slate, and the legal drama's 4.45 million viewers in its last outing weren't far off that of Chase, which NBC recently requested a full-season order for.