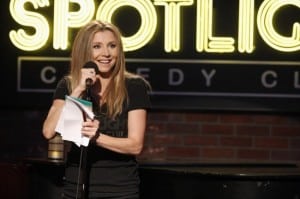 ABC has made decisions on five of its shows, with three of them meeting an end and two living on to see next season.
Gone from the lineup are How to Live with Your Parents (for the Rest of Your Life), despite performing well enough behind Modern Family; Red Widow, which premiered softly and never found its footing over its eight episode run; and Family Tools, the most recent in-season premiere. The latter already had its episode order cut from 13 to 10 and dropped to nearly below 1.0 18-49 demo in its second week, bringing the entire comedy night down with it. The only semi-surprise is How to Live not making it to another season, considering how the network has been so desperate for a Modern Family companion. Since Nashville popped up a bit once the Sarah Chalke comedy debuted, it had an argument, but ultimately, studio politics came into play.
However, the network gave two of its Wednesday comedies a renewal. The Middle, which enters into syndication this fall, has been renewed for a fifth season and will likely continue to lead off the night. ABC's main objective now is to find a comedy that pairs with it better, since neither The Neighbors nor Family Tools seemed to go well with the blue-collar family comedy. Speaking of the suburban alien comedy, it has been renewed for a second season of its own after finishing its first season this past March. While the show premiered to only okay numbers and dreadful critical reviews, both improved over the course of the season, with its numbers proving to be steady and buzz growing thanks to a creative upturn. The only question is whether it returns to Wednesdays or if the network has other plans for it, specifically for Fridays or midseason.
Additionally, ABC has renewed Friday comedy Last Man Standing for a third season, another move that isn't hard to imagine the reasoning for. The show was actually up in its second season finale over its first, which aired on Tuesday, and received some press coverage for its controversial, politics-heavy retool. With Malibu Country canceled and both of its multi-cam pilots dead, though, what will ABC pair with Last Man?
ABC is set to reveal its 2013-2014 schedule on Tuesday, May 14th.
Are you surprised at any of the cancellations? Would you leave The Middle on Wednesdays next season? Is The Neighbors headed for Fridays?