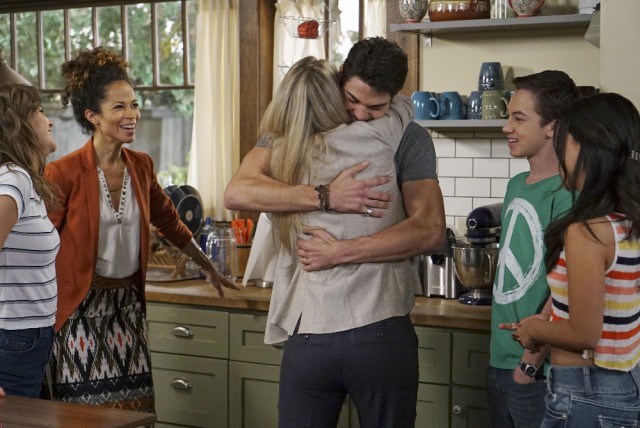 ABC Family, which will become Freeform this January, has announced the winter premiere dates for returning shows The Fosters, Baby Daddy, and Young & Hungry, along with the network's new drama, Recovery Road.
The Fosters Season 3 continues on Monday, Jan. 18, at 8 p.m. Following it that night at 9 p.m. will be the series premiere of Recovery Road.  Additionally, ABC Family's sitcoms Young & Hungry and Baby Daddy will return on Wednesday, Feb. 3, airing at 8 p.m. and 8:30 p.m., respectively.
These series join the already announced premieres of Pretty Little Liars and Shadowhunters on ABC Family's winter schedule, which you can take a look at below:
Tuesday, Jan. 12
8:00 p.m. ET: Pretty Little Liars
9:00 p.m. ET: Shadowhunters
Monday, Jan. 18
8:00 p.m. ET: The Fosters
9:00 p.m. ET: Recovery Road
Wednesday, Feb. 3
8:00 p.m. ET: Young & Hungry
8:30 p.m. ET: Baby Daddy
Per ABC Family, here's what fans can expect from the network's returning shows and its new series, Recovery Road:
The Fosters
As the third season of The Fosters continues, the family settles into a new dynamic now that Callie is permanently adopted. Callie and Brandon share a significant secret but focus on their interests to help them move on with their lives. A serious medical issue for Stef results in a clash of opinion between her wife Lena and her mother, Sharon. Jude must deal with his boyfriend's decision to move away while Jesus and Mariana are surprised when an old friend returns. Loyalties are questioned while new relationships develop, and family ties bring love and support amid the chaos of life.
Recovery Road
Based on the popular young adult novel by Blake Nelson, the series focuses on a teenage girl dealing with addiction. Maddie has a reputation as a party girl who doesn't think she has a problem, until she's confronted one day by her school guidance counselor and is forced to choose between expulsion and rehab. Maddie makes the difficult decision to live with other recovering addicts at a sober living facility while facing the daily pressures of her teenage life. Recovery Road stars Jessica Sula, Alexis Carra, Sebastian De Souza, Daniel Franzese, Sharon Leal, Kyla Pratt, and David Witts.
Young & Hungry
In October's season finale, Gabi drove off in a food truck with Josh's younger brother, Jake, leaving a conflicted Josh to stand there and watch her leave. Clearly he still loves her, and in season three, Gabi will realize she has feelings for Josh as well. But that doesn't mean getting together is easy, especially with Jake around, a food truck business to run, and Gabi's continuing goal of being the next Julia Child. Meanwhile, Elliot and Alan's new marriage bliss is tested when Elliot inherits something unexpected.
Baby Daddy
The premiere picks up with Riley reacting to Danny's surprising marriage proposal. Ben tries to move on from Riley and meets a new neighbor with whom he shares a lot in common. Ben hires a new manager for the bar, which turns out to be an old high school crush. Tucker resolves to move ahead in his television career. Ben is also dealing with a headstrong Emma, who has learned the word "No." And Bonnie and Brad try to finally redo their aborted wedding.
[Photo credit: Eric McCandless/ABC Family]