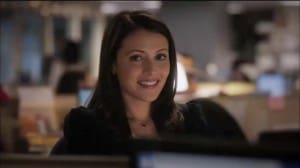 ABC Family has announced that it has picked up drama Chasing Life to series, production beginning this July for an early 2014 premiere date. The show is the fourth drama that the network has ordered recently, as The Fosters and Twisted already have a place on the summer schedule and Ravenswood is set to bow this fall, to go along with two new reality series.
Based on hit Mexican telenovela Terminales, Chasing Life stars Italia Ricci (Unnatural History) as twenty-something aspiring journalist April, an ambitious young woman looking to work her way up the ladder at the newspaper she writes for by impressing her editor. When not trying to fulfill her professional potential and attain more responsibilities, April's spending time with her family, including her widowed mother, rebellious little sister, and grandmother, as well as exploring the dating world in Boston. In particular, she has her eyes on a co-worker when she receives news that will change her life forever. She has cancer.
In addition to Ricci, Chasing Life stars Mary Page Keller (NYPD Blue), Aisha Dee (I Hate My Teenage Daughter), Richard Brancatisano (The Elephant Princess), and Haley Ramm (Red State).
The addition of another drama certainly throws a wrench in the chances for as-yet-unrenewed Bunheads and The Lying Game. ABC Family currently has summer, fall, and most of winter 2014 already covered in terms of dramas, with only the post-Pretty Little Liars slot in January yet to be confirmed. While their fates ultimately rest in how well Twisted and The Fosters do, should they be renewed, Bunheads and The Lying Game won't be back on air until spring 2014 at the very earliest, since ABC Family is losing The Secret Life of the American Teenager and will have at least one slot open. An announcement of their fate will reportedly happen sometime this summer.
Does Chasing Life sound like something you'd watch? What do you think about the title? Will this flow well with Switched at Birth?