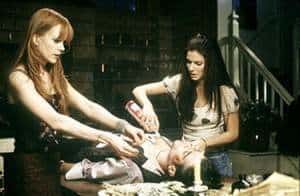 In the latest explosion of horror themes on television, vampires ruled first with zombies moving in to take a bite out of the pie as well. Now witches are trying to add some flavor to the brew.
According to The Hollywood Reporter, ABC Family is conjuring up an adaption of Alice Hoffman's popular novel "Practical Magic" to work it's mojo on their channel. No writer or talent is behind this adaptation at the time of this writing, but let's hope some good hands get a hold to it.
The novel is about sisters Gillian and Sally Owens, the latest in a dynasty of witches who are cursed to have every man they fall in love with die a tragic death. The book has already been adapted into a movie in 1998 of the same name. Sandra Bullock and Nicole Kidman starred as the two doomed Owens sisters and lead a cast of other notable stars such as: Stockard Channing, Dianne Wiest, Evan Rachel Wood, and Aidan Quinn to name a few.
This isn't the first time the novel has been optioned to be a television series. Sandra Bullock and CBS filmed a pilot spinoff series titled Sudbury, which comes from the name of the town the novel and movie takes place. That pilot starred Kim Delaney, Jeri Ryan, Esai Morales, Dixie Carter, and Shirley Knight. Even with that caliber of talent and Bullock herself onboard as executive producer, the show never left the pilot stage.
Witches tried to make a TV comeback last season with Eastwick, which failed to find audiences on ABC.
So unless Practical Magic, if it happens, doesn't pull in ratings and/or become pop culture staples like Bewitched, Charmed, or Sabrina the Teenage Witch, we might will have to wait for True Blood's fourth season, which will be laden in witchcraft and other bewitching tales.
So what are your thoughts on a Practical Magic series?
Source: The Hollywood Reporter