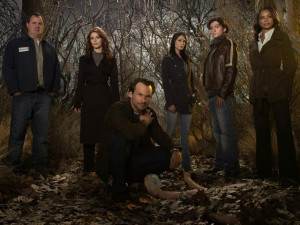 Christian Slater just can't get a break on TV. In 2008, his action drama vehicle, NBC's My Own Worst Enemy, failed after a short run of nine episodes. After a move to ABC, Slater's The Forgotten fared slightly better. However, even that improvement doesn't matter — ABC has nixed the series after fifteen episodes.
The series, which revolved around the "Forgotten Network" (headed by Alex Donovan, played by Slater), an amateur investigation sector dedicated to identifying the corpses of 'John Does' who are otherwise unidentifiable. The series, which also starred Michelle Borth and Elisha Cuthbert, aired its last episode, "Donovan Doe" on Tuesday.
Two more episodes, "Living Doe" and "Designer Jane" (episode titles carried the motif of including "John," "Jane," or "Doe") were filmed for the series, but will not be aired to finish off the series. Instead, they'll most likely be burned off over the summer, along with the episodes of most other cancelled series.
Cancellation of the series seemed imminent for a while, especially when the March 16 episode was announced to be postponed in order for a FlashForward recap to air. "FlashForward: What Did You See?" will air in The Forgotten's place on March 16. The recap will cover the first ten episodes of FlashForward's first season, with FlashForward returning with new episodes two days later on March 18.
The Forgotten is the latest in a long line of television cancellations this season. Fellow ABC series Hank, The Deep End, Eastwick, and Ugly Betty have already bitten the dust, with more, such as Scrubs and Better Off Ted, sure to follow.
What do you think of The Forgotten's cancellation? Was it a show that needed to be forgotten, or would you have rather it stuck around for another year? Let us know in the comments below – we're interested to hear your opinion!