ABC is gearing up for May sweeps and the network has released some teasers for upcoming episodes and season finales for its shows.
Thursday, April 25 – Sunday, April 28
WIFE SWAP — "Fireheart/Terry" — Karina Fireheart, a Pagan mom who practices witchcraft, and Sabrina Terry, the doting mother of a champion tap dancer, trade lives for two weeks on "Wife Swap," THURSDAY, APRIL 25 (8:00-9:00 p.m., ET).
GREY'S ANATOMY — "Sleeping Monster" — Bailey finds herself at the center of a CDC investigation surrounding the death of several of her patients, as Jackson and the rest of the board members argue over how to address the crisis with the public. Meanwhile, Cristina teases Alex about his unspoken feelings for Jo, and Owen continues to take special care of Ethan as the condition of his parents remains uncertain, on "Grey's Anatomy," THURSDAY, APRIL 25 (9:00-10:02 p.m., ET). Guest starring Jennifer Bassey ("All My Children") as Nancy Dawson
SCANDAL — "Seven Fifty-Two" — Secrets from Huck's life before Pope and Associates are revealed, Olivia and Fitz engage in an emotionally charged conversation, unaware of the fact that someone could be watching, and Olivia's team comes together to help one of their own. Meanwhile, Cyrus is becoming increasingly skeptical of Jake, and Mellie makes a decision that could bring down the White House, on "Scandal," THURSDAY, APRIL 25 (10:02-11:00 p.m., ET). Jasika Nicole Guest Stars as Kim
HAPPY ENDINGS — "The Ballad of Lon Sarofsky" — The gang is shocked when Penny rebounds from her breakup with Pete by having a torrid affair with the last man on earth they'd pick for her — the Car Czar (Rob Corddry). To make matters worse, she's temporarily living with Brad and Jane, who end up acting like disapproving parents. Meanwhile the friends pressure Max to get a job so he'll stop sponging off them. He decides to enter the "Mr. Gay Gay Chicago" pageant, with Alex and Dave as his coaches, on "Happy Endings," FRIDAY, APRIL 26 (8:00-8:30 p.m., ET). Rob Corddry returns as the Car Czar.
HAPPY ENDINGS — "Un-sabotagable" — Chase (guest star Mark-Paul Gosselaar), the ex-roommate whose life Max ruined, says he'd like to take revenge and do the same thing to Max, but Max's life is so pathetic it's "un-sabotagable." Max vows to prove him wrong and asks Jane to help him get his act together. Meanwhile, Alex asks the rest of the gang for help when Dave challenges her to finally use her stockpile of Groupons, on "Happy Endings," FRIDAY, APRIL 26 (8:30-9:00 p.m., ET). Mark-Paul Gosselaar returns as Chase.
SHARK TANK — "Episode 422 — Two men from Orlando, FL try to hook the Sharks into a deal with their fishing bobber made from a real shotgun shell. A mother and daughter team from Cohasset, MA offer the Sharks a sweet opportunity to invest in their homemade cupcakes-in-a-jar business. Also, a man from Cleveland, OH hopes to generate enough interest with the Sharks in his product which turns energy into usable electricity every time you take a step, and a natural-born salesman from Provo, UT presents a new twist on a common accessory — a belt with no holes. Plus, an update on Billy Blanks Jr. from Canoga Park, CA and his Dance with Me fitness-based dance program, who made a deal with Mark Cuban and Daymond John in Season 3, on "Shark Tank," FRIDAY, APRIL 26 (9:00-10:01 p.m., ET).
BET ON YOUR BABY — "Episode 104" — How many soccer goals can little Ryan make in the "Kickin' It" challenge, and can Dad correctly guess? Will Noah be able to extinguish cardboard flames with a water hose when he plays "Li'l Squirt?" Baby Athena loves to pick up after herself, but how many toys can she pick up in 90 seconds with mom's encouragement? Will Baby Levi catch a beach ball — and will Mom guess the outcome? And how many animal sounds can Baby Enzo correctly make in 60 seconds based on pictures he's shown? Find out when Melissa Peterman (ABC Family's "Baby Daddy" and "Dancing Fools") hosts "Bet on Your Baby," SATURDAY, APRIL 27 (8:00-9:00 p.m., ET).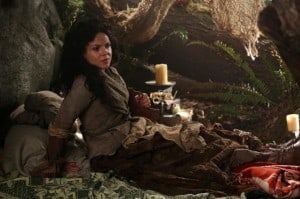 AMERICA'S FUNNIEST HOME VIDEOS — "Episode 2319" — Presenting a "Salute to the Military," this week's highlights include a soldier surprising his girlfriend at a baseball game with his homecoming and a proposal, a Marine with an unusual way of cutting the cake at his wedding, a montage of dogs eating with human hands, and Tom playing "Who's Makin' That Racket?," SUNDAY, APRIL 28 (7:00-8:00 p.m., ET).
ONCE UPON A TIME — "The Evil Queen" — With the aid of Hook, Regina attempts to put a plan in motion that will help transport herself and Henry back to Fairytale land. But her plan revolves around a fail-safe that was planted within the curse, which if triggered could wipe Storybrooke off the map — and kill all of its inhabitants; and Emma's suspicions about Tamara grow. Meanwhile, in the fairytale land that was, the Evil Queen asks Rumplestiltskin to transform her into an unrecognizable peasant in order to kill an unsuspecting Snow White, with the twisted aim of earning the love and respect of her subjects, on "Once Upon a Time," SUNDAY, APRIL 28 (8:00-9:00 p.m., ET).
REVENGE — "Identity" — Desperate to find Padma, Emily, Aiden and Nolan must track down the Fa1c0n's true identity and put a stop to the Initiative while Emily struggles with her future and Victoria fights her own battle after a very exposing interview on "Nightline," on "Revenge," SUNDAY, APRIL 28 (9:00-10:01 p.m., ET). Juju Chang (ABC News' "Nightline") guest stars as herself.
RED WIDOW — "The Coke" — Marta discovers the painful truth about the identity of Natalie's kidnapper and learns a compelling new piece of information about her husband's murder. Meanwhile, Gabriel takes dangerous matters into his own hands, and Kat and Ramos rekindle their illicit relationship, on "Red Widow," SUNDAY, APRIL 28 (10:01-11:00 p.m., ET).
Next page:Â Monday, April 29 – Sunday, May 5