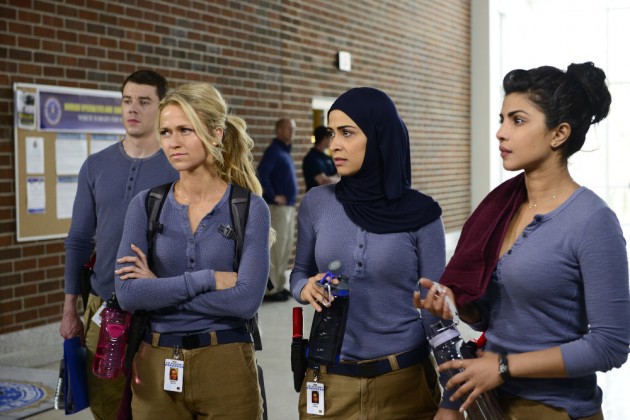 It's only June, but ABC is already making some changes to its fall schedule. The network's upcoming FBI drama Quantico, which many have compared to Grey's Anatomy, will now air Sundays at 10 p.m. this fall, following Blood & Oil at 9 p.m. and taking over the timeslot from Of Kings and Prophets. Quantico was originally set to air at 10 p.m. on Tuesday nights.
The reason for the switch is so that Of Kings and Prophets can recast some of the series' roles. The show will premiere at a later date.
Of Kings and Prophets, which was written by Adam Cooper and Bill Collage and executive produced by Cooper, Collage, Jason Reed, Reeza Aslan, and Mahyad Tousi, is an epic Biblical saga of faith, ambition and betrayal as told through the eyes of a battle-weary king, a powerful and resentful prophet and a resourceful young shepherd on a collision course with destiny. Its original cast included Ray Winstone as King Saul, Haaz Sleiman as Jonathan, Maisie Richardson-Sellers as Michal, Oliver Rix as David, Simone Kessell as Ahinoam, James Floyd as Ish-Boseth, Mohammad Bakri as Samuel and Tomer Kapon as Joab.
Meanwhile, Quantico was written by Josh Safran (Gossip Girl) and executive produced by Safran, Mark Gordan, and Nick Pepper. The series focuses on a diverse group of recruits that arrive at the FBI Quantico Base for training. They are the best, the brightest and the most vetted, so it seems impossible that one of them is suspected of masterminding the biggest attack on New York City since 9/11. Quantico stars Priyanka Chopra as Alex, Jake McLaughlin as Ryan, Aunjanue Ellis as Miranda, Yasmine Al Massri as Nimah, Johanna Braddy as Shelby, Tate Ellington as Simon and Graham Rogers as Caleb.
Will you be checking out Quantico when it premieres this fall? Comment below and let us know.
[Photo credit: Guy D'Alema/ABC]