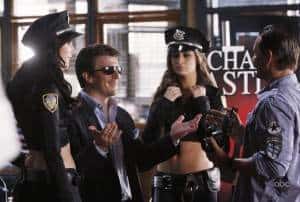 This is the one piece of renewal news that I've been waiting for the past week or so, since ABC gave full season orders to 4 of its new shows (Modern Family, Cougar Town, The Middle, and FlashForward). It finally came yesterday when ABC announced that Castle will survive at least through the rest of this season. The ratings for the second season of the mystery writer helps the police dramedy certainly haven't been bad, but they haven't been great either, causing many to fear a short life for the sophomore series. This means that we will get to see a full 22 episodes of Richard Castle and Kate Beckett solving crimes and making us laugh along the way.
But perhaps there is more going on here, and maybe Disney owned ABC thinks that they may actually have a shot at a new franchise on their hands. Early in October Disney's publishing arm, Hyperion, released Heat Wave, a novel written by Richard Castle. We realize that Richard Castle is a fictional character, but it seems that ABC doesn't (or won't admit it if they do). In the series, Heat Wave is the new novel that Richard Castle just published with his new character Nikki Heat, whom he based on Kate Beckett. So the crossover from the show universe to the real world has now happened and Heat Wave is a reality in our world.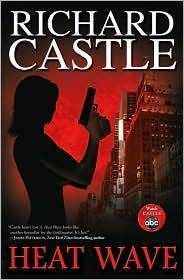 The Heat Wave novel managed to make it on the New York Times bestsellers list the week it was released, and has remained on the list up to this point. It's also currently listed as the 5th best seller on Barnes and Noble's website and on Amazon, in the Literature and Fiction category, its ranked as the 7th best seller. This could mean big money for Disney and pave the way for additional Richard Castle novels in the future, as well as other possible tie-ins to the show. For example, before the book was released ABC launched a twitter marketing campaign where people could "follow" Richard Castle on twitter as he attempted to solve a murder mystery. Although it sounds a bit gimmicky, it was actually a lot of fun and very well done. While this is hardly on the same level as that of releasing bestselling books, it does illustrate nicely that despite lower ratings, when compared to other similar dramas, Castle seems to have some devoted and loyal fans, and that can definitely mean profitability for Disney moving into the future. And since ABC Studios produces the show it means just more money into the Disney purse at the end of the day.
Because I love this show so much, I find this all very exciting, and I'm hopeful that the ratings will grow further throughout this season so there will be no question as to whether this show makes it to a third season. If you're not watching Castle, check it out on Monday nights at 10 pm ET.