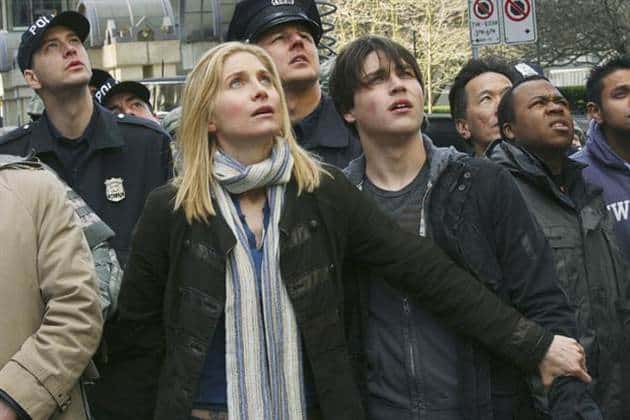 Christmas has come early, sci-fi fans. ABC has decided to renew one of its two on-the-bubble science fiction outings. The show that has survived is the alien invasion epic V. The series was, along with FlashForward, ABC's hope to fill the niche of LOST, its departing champion which will leave the small screen on May 23. It has been long speculated that ABC would choose to renew at least one of the shows, despite sagging ratings of both. V, which has fared slightly better, was the draft pick, and it now seems obvious that Anna and her  brood will continue to secretly threaten the planet for at least thirteen more episodes after next week's season finale, "Red Sky."
V is the first series to cheat the post-LOST curse. Shows like Invasion and The Unusuals all aired after LOST's timeslot, and none of them made it past a year. But, as Jack Shephard's beloved Red Sox broke the curse of the Bambino in 2004, V broke the curse of the Island in 2010.
Of course, V's victory might bode poorly for other science fiction fans, because it's all but digging FlashForward's grave. ABC's other struggling sci-fi series has even less of a chance at life that it did before (it had been said that it had less than a 50% chance of renewal). The Visitors' victory seems to mean that, unfortunately, there won't be another blackout as Mark Benford predicted. Instead, it seems that the alien ships will be bearing down on us instead.
We won't be getting confirmation of FlashForward's cancellation until ABC's upfronts early next week, but I'm expecting some fallout from FlashForward's small but dedicated fanbase if the show isn't picked up.
Meanwhile, V will probably return for a midseason replacement in January, and it's been all but confirmed that season two will contain thirteen episodes, one more than the first season has. Regardless of what happens in the finale next week, it seems a safe bet that we'll be seeing Elizabeth Mitchell continue to face off against the sadistic alien Anna in stakes that probably will continue to rise.
V's first season (and not series!) finale will air next week on May 18 after LOST's penultimate episode. My recap for V will be the last one of the week, unfortunately — I'll be out of commission from Wednesday until Sunday night, though I'll be back in time for LOST's series finale.