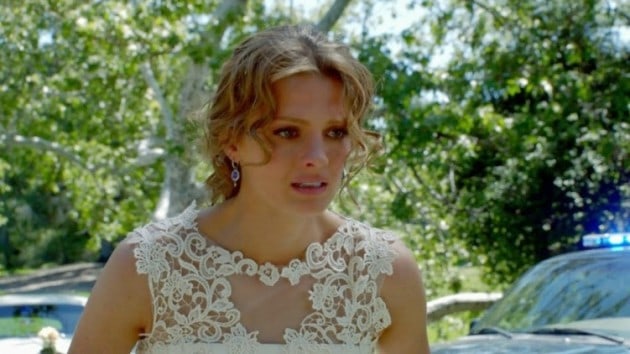 Kate Beckett is a bride on a mission in the first Castle season seven trailer released by ABC yesterday. The video gives us our first glimpse into the new season of Castle and Kate's search for Rick after the shocking and mysterious events of the season six finale derailed the couple's impending nuptials.
Viewers were shocked during last season's Castle finale, which ended with Rick's car in flames after presumably having been forced off the road by a mysterious SUV. While the trailer below does not provide any information on who could have possibly done this to Rick (the 20 second video is more a teaser than an actual, full trailer), it does pose the intriguing question: since Rick is obviously not dead ("He's not in the car," Kate says in the preview), how and why did he vanish?
Numerous theories have come out over the summer about who could have possibly done this to Rick. Some people believe that it may be the 3XK Killer, who is somehow still alive. Others have suggested that it's Rick's CIA father, Jackson Hunt, who needed to protect his son for some reason, and easily the most outlandish possibility, which a select few fans are clinging to, is that Rick faked his own death because of pre-wedding jitters.
Much of Castle's success comes from the chemistry between its two leads, as Stana Katic and Nathan Fillion are simply excellent when on screen together. Therefore, it will be interesting, if what the promo says about this season being "the search for Castle" is true, to see how the series functions when its two leads are not sharing scenes together.
Castle returns for its seventh season on Monday, September 29th at 10 pm on ABC.
[youtube http://www.youtube.com/watch?v=h8vagA2yy7M]
Photo via ABC