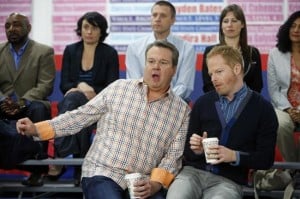 ABC has given Emmy favorite Modern Family a fifth season renewal, meaning that it will continue to anchor the Wednesday comedy block for a time to come. While it might have slipped in the ratings this season, the show is still very much the number one comedy on the network and will enter into syndication this September on USA. With a shaken up Wednesday lineup and exposure to a new audience, the latter of which has helped to sustain the likes of Law & Order: SVU and House, it could conceivably bounce back up following its lows this season.
Meanwhile, the network has officially cancelled Body of Proof after three seasons. The show was a surprise renewal last season, a decision that was touted due to international numbers and the marketability of lead Dana Delaney, but its fate ends up being much less bright for 2013, despite a creative retool. Body of Proof had a couple of weeks where it perked up in the ratings and looked like it might challenge for a spot on the schedule next season, perhaps even at the cost of Nashville, though its weak competition and the as-yet-unannounced fate of Dancing with the Stars might have worked against it. The show always thrived behind Dancing, perking up once the latest cycle premiered in March, and given its procedural nature, it seemed like ABC might shepherd it to syndication and take the low-ish ratings. However, it might have been just too far from syndication threshold to justify hanging on to, particularly if ABC likes its drama pilots.
ABC is set to reveal its 2013-2014 schedule on Tuesday, May 14th.
Which comedy pilot should ABC pair with Modern Family? Do you think that they should have renewed Body of Proof for syndication purposes? Should Dancing with the Stars occupy the Tuesdays at 9:00 slot some point this season, what will ABC air at 10:00?