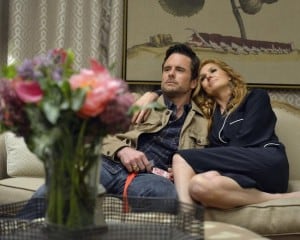 ABC has began its renewal and cancellation announcements for next season by revealing the fates of two freshman programs. Musical drama Nashville will live to sing another day, as the network has given it a second season, while Reba McEntire comedy Malibu Country has been canceled after an 18-episode run.
Nashville seemed to have everything this season but robust live ratings, making its position at the network less secure than one would think. There was the ancillary income from music sales and a potential tour, strong DVR ratings, awards attention, (initial) critical interest, and a highly marketable cast that has participated in several promotional tie-ins. However, the show never broke out during its 21-episode first season and reportedly was on the way out earlier this season before ratings picked up to current levels. The only question now is whether it stays on Wednesday nights or if the network uses it for another night, possibly Sundays.
Meanwhile, freshman comedy Malibu Country was squeezed out due to soft ratings. The comedy, which featured McEntire moving her family from Nashville to California for a post-divorce fresh start at life, was a decent companion for Tim Allen's Last Man Standing and ended the season on enough of an up note that renewal was a possibility. The network had been rumored to be considering a 2013 TGIF lineup, but if they're still going that route, they must have really been dissatisfied with Malibu Country's ratings. There's a chance that this year, they won't expand and they'll simply sub in a new multi-cam behind Last Man Standing.
ABC is set to reveal its 2013-2014 schedule on Tuesday, May 14th.
Do you think ABC should move Nashville to another night? Is cancelling Malibu Country a smart move? How do you think ABC Fridays will look next season?