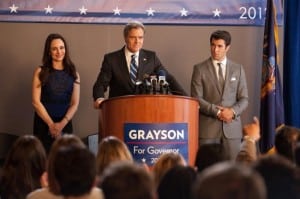 ABC has announced that sophomore shows Revenge and Suburgatory, two former schedule bright spots that found themselves on shakier ground this season, have been renewed for next season, joining Nashville, Scandal, Grey's Anatomy, Castle, and Once Upon a Time.
Last season, Revenge and Suburgatory were strong successes for the network and as such, they were given time slot upgrades for this season. However, Revenge might not have been sturdy enough to handle the responsibility of being the Sundays at 9:00 show and Suburgatory, for whatever reason, just didn't pop when placed behind comedy king Modern Family. Couple that with uneven reviews and they're not as secure in their place on the network as they were last season. Suburgatory, in fact, was even rumored to be facing cancellation, but there's a chance it could be moved back to Wednesdays at 8:30 to see if its symbiotic relationship with The Middle is still there.
The network also canceled Happy Endings after the show couldn't get a foothold in the ratings the entire season. Its late premiere, incompatible lead-in, and multiple time slot moves certainly didn't help, but the network launched campaigns meant to draw interest to the show and allowed it to finish out its run, unlike former time slot companion Don't Trust the B—- in Apartment 23. The show has been rumored to be drawing interest from other outlets, most notably USA, so it may not be over for Brad, Jane, and the rest of the gang.
Meanwhile, the network has picked up comedy The Goldbergs to series, making it the second comedy order of the evening. Starring George Segal, Jeff Garlin, and Wendi Covey-McLendon, the show is set in the 1980s and follows a family whose parents refuse to let their children grow up. It also features Hayley Orrantia, Troy Gentile, and Sean Giambrone.
ABC is set to reveal its 2013-2014 schedule on Tuesday, May 14th.
Do you think that ABC moves Revenge and Suburgatory next season? Is there a chance that Happy Endings continues on elsewhere? How will The Goldbergs fit into the network's comedy slate?