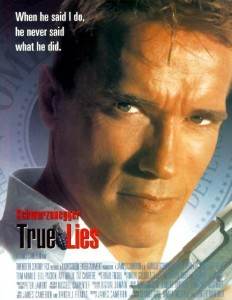 After destroying the box office with his huge budget 3D spectacle Avatar, it was a no-brainer that the networks would be clamoring for a piece of James Cameron's True Lies, and ABC has won that race. The network has snagged a script deal with penalties, meaning they'd lose a lot of money if the project doesn't go to series.
Rene Echevarria, well known in the genre world for writing on Star Trek TNG, DS9, The 4400, and even on Cameron's last television series Dark Angel, would act as showrunner and writer for the TV adaptation of Cameron's 1994 action hit, which starred Arnold Schwarzenegger and Jamie Lee Curtis (and some might remember for featuring a young Eliza Dushku).
The spies-keeping-secrets genre has flourished lately, with shows such as Alias, My Own Worst Enemy, and NBCs new fall series Undercovers all playing in that arena.
Are you excited to see what Cameron and Echevarria have in store? Who would you cast as super spy Harry Tasker?