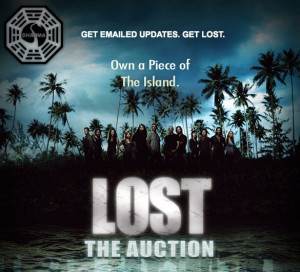 ABC and Profiles in History will be getting together to auction off numerous props from LOST, and better yet we'll be bringing you the low down on some of the iconic props that will be making into the auction. This week at the San Diego Comic Con LOST will be presenting some of the items that will be sold to the highest bidder.
Presently, the Profiles in History LOST site only offers a sign up for future notification. Early word on the auction is that such LOST staples as Hurley's Lottery Ticket, Kate's toy plane, and Mr. Eko's stick are amongst the most notable items. No doubt there will be a hatch-load of Dharma goodies.
No word on whether or not the proceeds from the LOST auction are going to any particular good cause or anything. Also, it is not clear if the preview of the auction will be part of this Saturday's LOST panel, or if the items will be on display throughout Comic Con. Don't forget, we have full coverage of San Diego Comic Con 2009 starting tomorrow, keep an eye on our Comic Con page for updates ( and @jopinionated's twitter.)
Here are some LOST items that haven't been announced, but we'd love to see on the auction block:
Ben Linus's glasses. Can they turn any geek into a sinister villain?
Actual smoke from the smoke monster. There must be a way, I'm just saying…
Doctor Chang's prosthetic arm. (So I can prove to my doubting friend that it was a prosthetic arm! Damnit!)
The polar bear muppet from the pilot.
Bernard's fake beard from season 5.
A mason jar full of Matthew Fox's tears.