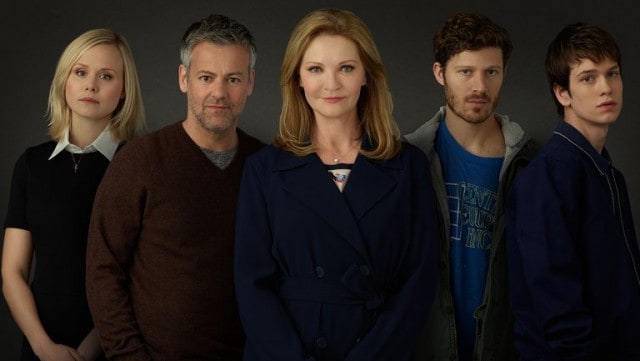 If you've been watching ABC's The Family then you already know it's filled with unexpected twists.  Then there are those twists we think we know and are waiting for the people on-screen to figure out.  It doubles  that edge-of-your-seat anticipation because there's always something about to blow up!  For The Family season 1 episode 6 we're promised that the mystery of Adam Warren's disappearance will continue to unravel – as well as more looks at the…uniqueness of our human hearts.  Take a look at this sneak peek!
What. The. Heck. Does Fran from the bakery (The Tony-Award-winning Jessie Mueller) not watch the news? I suppose in a small town like that there aren't a lot of choices. Besides, he's been proven innocent of murder….even if he was caught flashing kids in a park. Â  …Or, maybe she just really doesn't watch the news and has no idea of who Hank Asher (Andrew McCarthy) is.
This could turn out to be a good thing, right? Â Hank certainly could use a friend – especially if it keeps his mind off of little boys. Then again, Doug (Michael Esper), the man who kidnapped abused "Adam" (Liam James) for ten years, has a wife and kid on the way, so that's no guarantee. Still, Hank actually wants to try to move on and not go back to his old behavior. Â Fran could turn out to be even better than a puppy!
Last week's episode, "I Win" ended with detective Nina Meyer (Margot Bingham) coming to the Warren's asking to use Adam as bait to catch Doug. Apparently the family and Adam agree, but not without some trepidation.
Claire Warren (Joan Allen), the current mayor of Red Pines and a gubernatorial candidate for the state of Maine, is a fierce political animal, but she's wanting to throw it all away to run away with the son she thought was dead. Everything Claire has become has been motivated by what happened to Adam 10 years ago. Now that he's back, perhaps her priorities are shifting?
The press release for The Family season 1 episode 6 gives viewers a quick rundown on what to expect on Sunday – including some news about Claire.
The Family: Nowhere Man (4/3)
NINA AND CLEMENTS SET UP A STING TO CAPTURE ADAM'S KIDNAPPER, BUT A STUNNING DISCOVERY IS MADE WHEN ADAM IS SENT TO THE HOSPITAL,
ON ABC'S "THE FAMILY"

Andrew McCarthy Directed "Nowhere Man," Airing Sunday, April 3
Tony Award-Winner Jessie Mueller Continues in Her Guest-Starring Role as Fran

"Nowhere Man" —Nina and Clements design a plan to lure the pock-marked man, Doug, using Adam as bait. However, things go awry when Adam spots Doug in the mall. He becomes sick and is taken to the hospital while the police continue their pursuit of Doug. After the doctor reviews Adam's medical history, he drops a bombshell on an unsuspecting Claire. In flashbacks, we return to the night when Adam was kidnapped, retracing all the near misses where Doug crossed paths with the Warrens and the police, on "The Family," SUNDAY, APRIL 3 (9:00-10:00 p.m. EDT) on the ABC Television Network.
A stunning discovery at the hospital? Does this mean Claire will find out it's not the real Adam? Maybe…or maybe not. This last sneak peek opens another possibility….
[youtube https://www.youtube.com/watch?v=B1NBozZMLqA?rel=0&w=560&h=315]
Willa Warren (Alison Pill) is a sharp political tactician, so I don't know if she's just made that up in reaction to the news or if she's known about the affair for a long time. As for Claire, maybe she always thought Adam was her husband's child. If the bombshell is that this "Adam" is Claire's but the child of John Warren (Rupert Graves) that's going to be tough. I mean, she and John only patched things up between them last week!
The Family season 1 episode 6 will be airing on Sunday April 3rd at 9pm ET on ABC. I can't wait to see what the fallout will be from the new revelations!