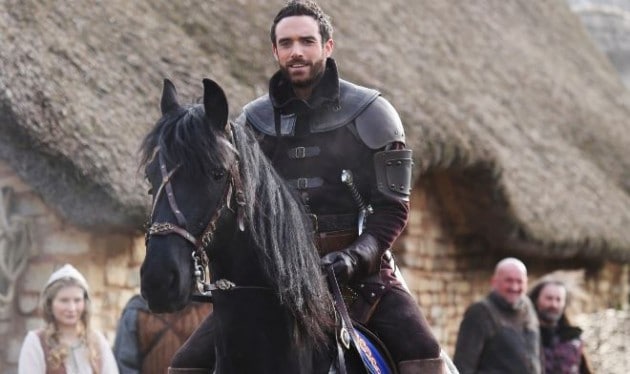 Even though it's been said countless times before, it bears repeating: this year was a fantastic one for television, especially for new shows. In two days, though, 2014 will be no more, and we'll have an entirely new crop of freshman series to look forward to in 2015, starting with the first major premiere of the year, ABC's Galavant, which debuts this Sunday at 8 p.m. Part The Princess Bride, part Monty Python, Galavant is an incredibly fun and entertaining musical comedy that gets the new year off to a great start.
The series centers on Sir Galavant's (Joshua Sasse) quest to rescue the love of his life Madalena (Mallory Jansen) from the clutches of the evil King Richard (Timothy Omundson). However, unlike the more traditional versions of this type of story, Galavant discovers that Madalena may not want to love him the way he he loves her, leading the famous knight into a downward spiral until he meets Isabella (Karen David), a feisty princess who wants his help saving her parents, whom Richard has captured after taking over her land and killing most of its population.
While the story may sound familiar (and from the five episodes I've watched, the plot does pretty much unfold like you would expect it to, with a few minor twists here and there), it's the way that Galavant tells it that makes the show such a joy to watch. All the actors, from Sasse to Omundson (who appears to be having a blast in this role) to Luke Youngblood as Galavant's squire, Sid, are all completely game for the wacky material they're asked to perform, ensuring almost each scene is a laugh riot. Plus, these actors also have the voices to match their comedic chops.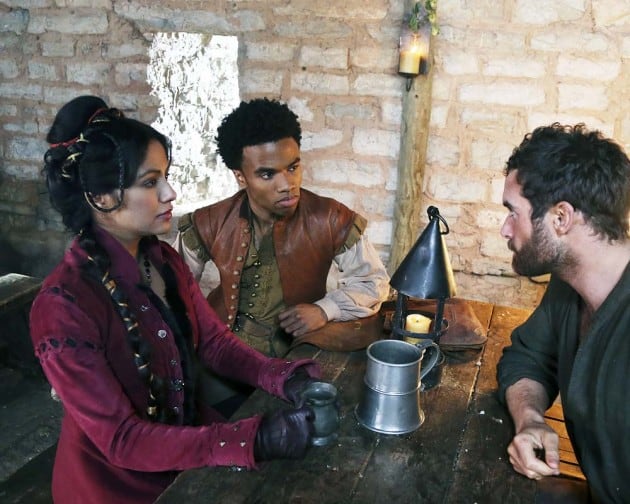 And that may be what's best about Galavant: the music. The original songs, which were all written by Oscar-winning composer Alan Menken and Tony nominee Glenn Slater, are outrageous and clever and most certainly the highlight of the show. Each episode features at least two or three musical performances (a good amount for a half-an-hour comedy like this), and they serve as both a funny and fresh way to move the plot forward and as a great showcase for Galavant's performers, who turn each song into a showstopping number in the same way that Glee's actors did throughout that series' earlier seasons.
Plus, like the best episodes of Glee, Galavant doesn't take itself too seriously, allowing for its characters to poke fun at themselves and the situations they find themselves in while also amping up the already heightened emotion of certain moments. Thanks to the cast's chemistry and the solid writing, this is a series that can have a well-written romantic scene one moment followed by a big musical sequence featuring a group of singing monks  the next. (The monks in question, by the way, take a vow of singing instead of silence and are led by Weird Al Yankovich, who fits perfectly into this wonderfully wacky world that Galavant quickly creates.)
Even though there are some jokes that don't land (Vinne Jones is perfectly fine in the role as King Richard's right-hand man, Gareth, but a lot of his one-liners fall flat) or a few moments every once in a while where the show tries just a little too hard to be clever, Galavant hits more right notes than it does wrong ones. There are plenty of shows to watch on Sunday nights, but during its four-week run, give Galavant a chance. There's really nothing like it on TV right now, and at a time when there's an overabundance of great series on countless different networks and streaming sites, that's the highest compliment I could give it.
Five episodes were watched for this review.
[Photos via ABC]