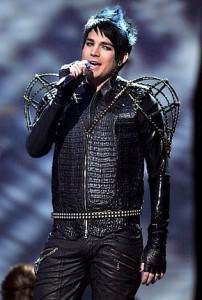 The prevailing theory surrounding Adam Lambert's surprising loss to Kris Allen on American Allen is that the over-dog was a bit too gay for America. Sure, and the reason why Star Wars lost best picture to Annie Hall is because Hollywood is controlled by Jews. It really does Adam a huge disservice for his fans to spin these conspiracy theories – there are some very good reasons why Adam Lambert lost on American Idol, and some of them are very flattering for the big guy.
#1 – He is an acquired taste. Adam is an artist, and he tries to put a personal stamp on everything he does – and, most impressively, he didn't compromise his artistic vision for American Idol. The problem is that in doing so Lambert appealed to viewers with a higher 'artistic' tolerance. Remember, American Idol is targeted at the pop-music crowd – closer to center wins the day.
#2 – He's too good looking. People hate Adam for his looks. It's just the human envy reflex. Idol is about one of us (regular guys) becoming one of them (superstars), and Adam came on looking like a super star guest instead of a contestant. It confused people.
#3 – Daughtry syndrome. As a rocker, Adam limited his potential votes by alienating old fogies who couldn't stomach his catterwalling. The good news is that the music world is a bit more segmented than the TV market, so Adam won't have any trouble at all fitting in there. Best of all, like Daughtry proved, you don't have to win to be a hit-maker.
#4 – Simon Cowell liked him. The kiss of death. Do we really need to explain why?
#5 – He's too good. Adam was just too damn good, and that was way too confusing for the viewers. Why vote for a guy who had already established himself as a super star? Lambert probably achieved more fame with his crazy getups and theatrical sets than any other American Idol contestant in history – and that's not what the show is about. Again, at the heart of the show it is all about one of us becoming one of them; Adam walked, talked, and performed like a star. As evidenced by the entertainment medias obsession with him, he got the part in our consiousness – problem is, at the end of the day people want to see the boy or girl next door make good. Advancing Lambert would have been redundant.
Psychobabble, you say? Maybe. But either way, Lambert lost American Idol and there are a lot of reasons why we should have seen it coming.
Check out our Kris Allen and Adam Lambert Galleries!