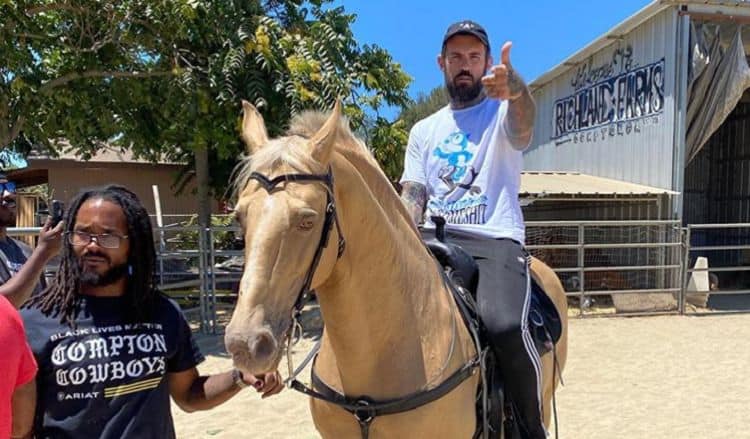 Many people who choose to go to work in the entertainment industry do so with the intent to use a stage name. Everyone has their own reasons and their unique ideas, and there is nothing wrong with that. Adam22 is one of those guys. His name is not really Adam22 – that's too similar to what I called my childhood hamster, Fluffy, when he died regularly and my parents replaced him. Fluffy 1, Fluffy 2, Fluffy 18. You get the point. Adam22 is a stage name for a guy who does a little bit of everything. If you don't know who he is, it's time to get to know who he is.
1. He's A Lot of Everything
If you want to try and pinpoint what he does or who he is, you're going to have a hard time with that one. He's a little of everything. He's a journalist and a podcaster. He has produced records. He's a personality on the internet. He's a BMX rider. He's every single thing, basically. He doesn't like to pigeon-hole himself.
2. He's in His 30s
He's a guy who was born in the early 80s, and he probably had a pretty simple childhood. No phones or social media. His date of birth is November 24, 1983. He probably spent a lot of time outside. He probably didn't have too many strict rules in terms of the kinds of things kids deal with growing up today. It was a good time.
3. He's Got A Real Name
Oh, right; we should mention again that his parents did not name him Adam22. They actually named him Adam John Grandmaison, which is what he grew up going by. He took on the name Adam22 later in life, but he had other nicknames growing up. Jumper was one of them. Then No Jumper was another. Those are his BMX nicknames, so he's heard it all.
4. He's Got a Lady Friend
He is not a single man. He's off the market with a girlfriend that he's been with for a while. Her name is Lena Nersesian. Sometimes, she's goes by the name Lena the Plug. She spends her time being an internet personality, but she also stars in adult films when she's feeling the need.
5. He's Going to Be a Dad
The internet personality announced in 2020 that he and his lady friend will welcome their own baby soon. She's pregnant, and they are going to be parents. This is their first child both together and without one another, so we can imagine that this is a very exciting time for them.
6. He's Got Interesting Beliefs
He is not a man who describes himself as faith-oriented or a believer in God or any other religious being. He is someone who describes himself as an atheist. This means he does not believe in any type of deity. He just doesn't pray to anyone or believe in a higher power of any sort.
7. He Was Accused of Sexual Misconduct
Two women came out in 2018 accusing him of sexual misconduct and 'online humiliation,' against them. One went as far back as 2005 and the other to 2009. They both went into graphic detail with their allegations, and he came out and denied ever forcing them to do anything. He publicly announced that he'd done many stupid things in his life, but he did not rape anyone.
8. He and His Girlfriend Have an Open-ish Relationship
They don't call it an open relationship. They don't go out and spend their time with other people without their own being with them. They do, however, film themselves with other women doing intimate things and upload them to Lena's internet channel that is designed for that type of adult viewership.
9. They Were Trying to Have a Baby
Most people would assume that these two were not trying to have a baby given the fact that they are not married, but this is simply not true for them. They are a couple who was trying to have a baby, and it worked for them. They were trying for a few months prior to her finding out that there is a bun in the oven for them.
10. His Relationship Grew His Brand
One thing that he and his girlfriend both agree on is that their 3-year relationship has helped them both grow as internet personalities. They have both gained a lot of followers from one another, and they work hard to keep it that way. They want to be able to provide for their growing family, and this is their income source.