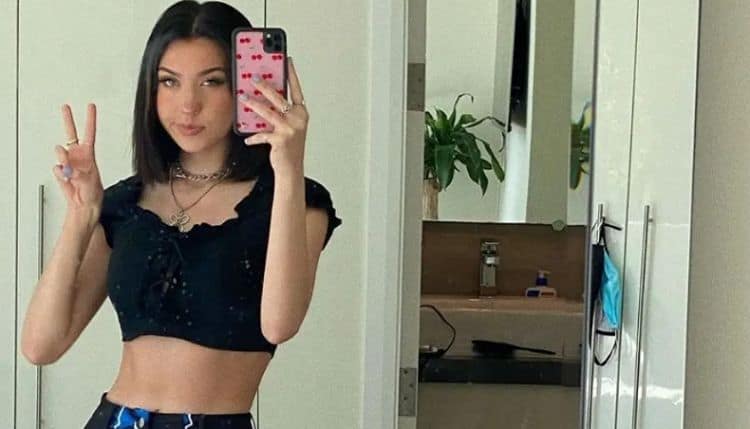 For many people, being in the house during this pandemic has resulted in spending a lot more time scrolling through social media. For lots of young TikTok users, this has resulted in almost overnight success. People have gone from being average social media users to having millions of followers in just a few months. Addy Tharp can attest to this. At 18-years-old, she is on her way to becoming one of the hottest up and comers on TikTok. She has built a following that includes more than 2 million people, and her numbers just keep climbing. She is most well-known for her lip syncing videos and her collars with other popular people. Keep reading for 10 things you didn't know about Addy Tharp.
1. She Loves Shouting Out Her Supporters
No influencer would be where they are without the support of their fans, but unfortunately, not everybody with a large following is appreciative of their fan base. However, Addy is very grateful for all of the people who have shown their support. Lots of people have drawn and painted pictures in her honor, and she loves to shout them out by sharing their work on her Instagram highlights.
2. She Supports Social Justice
Unfortunately, tension in the country has been extremely high as of late. Lots of recent events have put people at odds with their family and friends. As a result, people don't always feel comfortable speaking up and sharing their views. However, Addy has shown her support for social justice initiatives such as Black Lives Matter.
3. She Has A Boyfriend
There are lots of people who have Addy at the top of their Woman Crush Wednesday list, but Addy isn't on the market. She's in a relationship with fellow TikTok star, Cayman Rhodes. The couple seems to be going strong and they often appears in TikTok videos together.
4. She Has Her Own eCommerce Store
Addy may be young, but she already understands the business aspect of the social media game. She's already branching off into the world of entrepreneurship. She started an eCommerce store on a platform called Depop where she sells clothing and other fashion accessories.
5. She Likes To Stay Private
Addy is building a career out of posting on social media, but that doesn't mean that she posts about her personal life. In fact, Addy doesn't really share information about her personal life at all. Almost all of her posts are simply for entertainment and she doesn't seem interested in opening up.
6. She Recently Joined The Vault
As TikTok has continued to get more popular, several 'cliques' have formed on the platform. These groups often consist of several content creators who collaborate often and sometimes even live together. A few weeks ago, Addy joined The Vault which also consists of Cayman Rhodes, Jackson Krecioch, Devyn Winkler, Kaylee Pereira, Bryce Xavier, Keith Pichardo, Peyton Sama, Maile Hammahz, Rave Vanias, Kiera Vanias, Mariano Castano, and Malcolm Suarez.
7. She's From Oklahoma
Even though we don't know much about Addy Tharp's personal life, we do know that she appears to be from a town in Oklahoma called Bixby. However, it looks like she currently lives in Los Angeles. More and more influencers are moving to Los Angeles to help give themselves easier access to the industry.
8. She Enjoys Traveling
Addy is enjoying everything that life has to offer, and one of those things is the opportunity to travel. She loves getting the chance to get out and visit different places. Unfortunately though, most trips have been put on hold to try and prevent the spread of the coronavirus.
9. She Started A YouTube Channel
Addy is best-known on TikTok and she also has a substantial following on Instagram. However, those aren't the only platforms where she's building a fan base. She also started a YouTube channel, but she's only uploaded one video so far. Still, she's managed to get over 27,000 followers and her only videos has 68,000 views. There's no word on whether or not she plans to upload more content in the future, but if she does, she's already got a strong following.
10. She's Serious About Her Skincare Routine
She isn't technically a beauty influencer, but Addy is still very serious about her skincare routine. After all, healthy skin is definitely a must if you plan to spend a lot of time in front of a camera. She hasn't shared the exact specifics of her routine or which products she uses, but maybe she'll make a video with all of this information in the future.