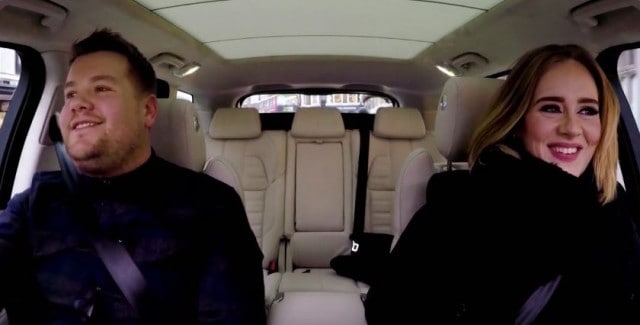 After James Corden officially announced Adele Carpool Karaoke on Monday night, fans of the music star (and viewers of The Late Late Show) have been anxiously awaiting for the event. On Wednesday night, it actually happened, and it was even better than what anyone could have imagined.
Adele joining James Corden for Carpool Karaoke will now live on as one the rare things in life that don't just live up to the hype but surpass it (like The Dark Knight or the final season of Breaking Bad) . Not only did the two of them duet on some of the singer's best songs, from "Hello" to "Someone Like You" to "Rolling in the Deep," but they also teamed up for an unexpected '90s hit from one of Adele's favorite musical groups of all-time: the Spice Girls.
Also in the video, Adele reveals several facts about her life, from how she spent her Christmas holiday to how she makes a reservation at a restaurant without risking the paparazzi coming. Plus, she shows off a hidden talent that is too good for me to even tease.
Watch the full Adele Carpool Karaoke below, along with some the best moments from the video that The Late Late Show shared on Twitter.
It's official, James is @Adele's new backup singer. #AdeleCarpool pic.twitter.com/GwSa5JpG2b

– The Late Late Show (@latelateshow) January 14, 2016
CHUG, CHUG. #AdeleCarpool pic.twitter.com/M418fFQfdm

– The Late Late Show (@latelateshow) January 14, 2016
In case you didn't know, @Adele also plays the drums. Basically, there's nothing she can't do. #AdeleCarpool pic.twitter.com/Dgaf9bp0lw

– The Late Late Show (@latelateshow) January 14, 2016
RETWEET if you remember this nineties catchphrase. #AdeleCarpool pic.twitter.com/W7wlfPmWOA

– The Late Late Show (@latelateshow) January 14, 2016
Sounds like a typical week to us, @Adele. #AdeleCarpoolpic.twitter.com/2JGoaJg7ji

– The Late Late Show (@latelateshow) January 14, 2016
[Photo via YouTube]