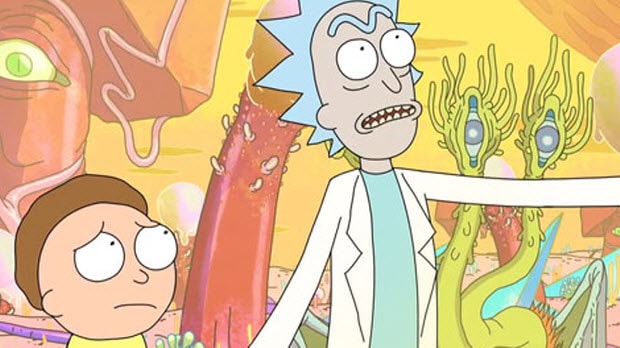 Rick and Morty has officially been crowned the best new weird cartoon out there, following in the immortal footsteps of Space Ghost, Aqua Teen, Adventure Time and many more. It's from Community creator Dan Harmon, and even in its limited lifespan, has attracted a large following.
Well, now you don't even need a cable subscription to watch it. Cartoon Network's Adult Swim has just posted all six episodes that have aired so far online, ahead of the March 10th premiere of episode seven. I'll admit that I have not yet watched it myself, but you can be damn sure I'm going to now that these are all online and I don't have to curse myself for failing to DVR them when they aired.
In case you don't know what the show is about, here you go, but "plot" isn't exactly its thing:
"Rick is a mentally-unbalanced but scientifically-gifted old man who has recently reconnected with his family. He spends most of his time involving his young grandson Morty in dangerous, outlandish adventures throughout space and time. Compounded with Morty's already unstable family life, these events cause Morty much distress at home and school."
Watch the episodes here.
[Photo via Cartoon Network]