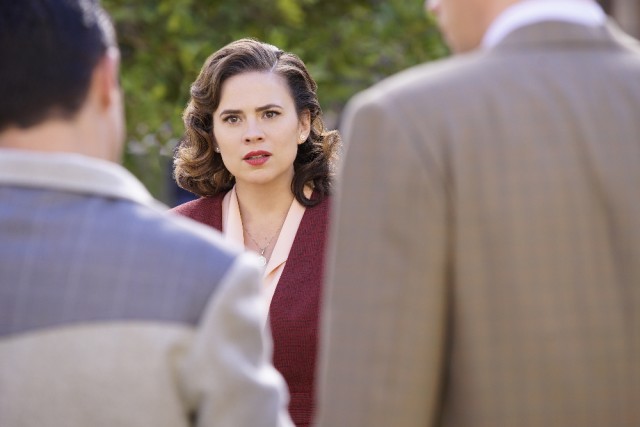 The stakes could not be any higher in tonight's Agent Carter Season 2 finale, titled "Hollywood Ending." Not only are Peggy, Jarvis, and the rest of the SSR facing their greatest challenge yet, as they all may lose their lives in the battle against Whitney Frost, but the fate of the show also hangs in the balance, as low ratings for the Marvel series suggest that this season finale really could be a series finale. However, whether or not this is the final episode of Agent Carter, it sure looks to be a great hour, as shown in the two sneak peeks below.
In the first of them, Peggy faces off against Jack, who holds the detonator and plans to blow up the building that both Whitney and Wilkes are in. When Peggy pulls her gun out and orders him to put the detonator down, Jack laughs off her threats and says that she doesn't have it in her to shoot him.
"There was a time when that was true," Peggy tells Jack, cocking her pistol. "Not anymore. Put the detonator down, Jack."
And if you want a little bit of romance to go along with your action, tonight's Agent Carter finale will also offer that, as the other sneak peek features a cute moment between Peggy and Sousa. Are they still in an incredibly dangerous situation? Of course, but why should that stop them from having a little bit of fun?
Agent Carter's Season 2 finale airs tonight at 9 p.m. on ABC. Check out the two clips from "Hollywood Ending" below:
[Photo credit: Kelsey McNeal/ABC]