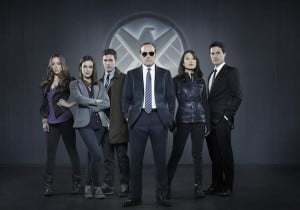 It shouldn't surprise people that a lot of critics and TV viewers were eagerly awaiting the announcement that Agents of S.H.I.E.L.D. would be picked up to series. This is probably ABC's most high profile series for the 2013-2014 and the reason why is completely obvious. Not only is it from Joss Whedon, creator of the critically acclaimed and beloved cult show Buffy the Vampire Slayer, but it's also a Marvel show that essentially spawns from Whedon's highly-grossing and incredibly popular The Avengers film from last summer.
This news comes at the end of a long week of frantic announcements from the various networks about new show pick-ups, renewals and cancellations, but it's probably the one that will definitely have people celebrating as we head into the weekend. Whedon, his brother Jed Whedon and Jed's wife, Maurissa Tancharoen (who all collaborated on Dr. Horrible's Sing-Along Blog) are penning the pilot episode.
Known cast members include: ER's Ming-Na stars as Agent Melinda May, The Avengers' Clark Gregg as Agent Phil Coulson, Killing Lincoln's Brett Dalton as gruff rising star Agent Grant Ward, Elizabeth Henstridge as science whiz Agent Gemma Simmons, Iain De Caestecker as tech guru Agent Leo Fitz and Nashville's Chloe Bennet as Skye, a superhero-obsessed woman.
ABC will be pushing hard for this series, beginning its marketing campaign during Sunday's Once Upon a Time season finale. The network is set to reveal its 2013-2014 schedule on Tuesday, May 14th.
There's no doubt that Agents of S.H.I.E.L.D. is an eagerly anticipated show for fall 2013, so we can't wait to start seeing footage of it!