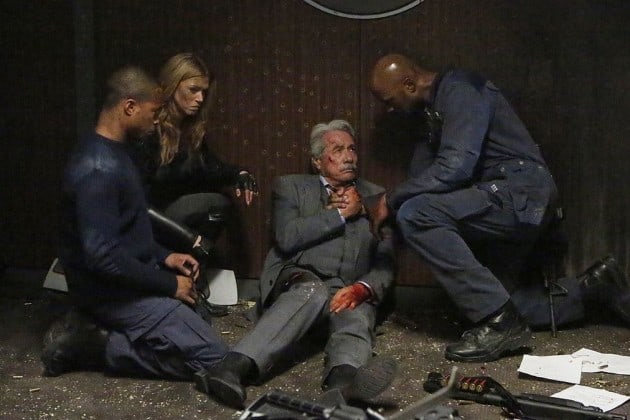 While these few past weeks for Agents of S.H.I.E.L.D. have been up and down for this particular viewer, this week's episode was a huge step forward in Season 2B, as it told the story of how the "real" S.H.I.E.L.D. was created during the events of Captain America: The Winter Soldier.
For someone who has been loving the way they do flashbacks on Arrow and now The Flash, I have to say that whenever Agents of S.H.I.E.L.D. does flashbacks, they actually tend to have a more parallel connection with the main plot of the episode than Arrow does sometimes. That's how I prefer flashbacks being used in most cases so this isn't a slam on everyone's favorite emerald archer.
This was a specifically well-written episode for Mockingbird, and it really explained a lot of the difficult choices she has had to make this season. Bobbi has been one of the greatest new characters of this season, and I don't want to go from a point where I love the character to then just disliking her for being shady.
We also got a deeper look into Robert Gonzalez, as well as Mack, and it made me change my opinion on the whole "new S.H.I.E.L.D." arc because they did what I was hoping for: once they got to Coulson, they tried to forge somewhat of an alliance. It was a powerful intensity when Robert and Coulson were face-to-face at the base because you could feel that these two are both forces to be reckoned with. But speaking of intense moments: May vs. Mockingbird is officially one of the most impressive fights in the whole MCU. I was surprised though with May's choice of not going with Coulson at the end, but I get that she was trying to be there for Fitz and Simmons, who totally went superspy on Bobbi!
Skye's arc, which continues to be one of the best storylines right now on Agents of S.H.I.E.L.D., took a lot of interesting steps forward. We finally got to know Gordon a bit more, and he is quickly becoming a very likable character. I like that he isn't (so far) an antagonist. He had a lot of wit and charm to him, and the actor playing him clicked quite well with Chloe Bennet, so I'm stoked to learn more about where this character will take her, both physically and emotionally.
Speaking of Skye, I don't know why this scene stuck with me the way it did, but I was just fascinated over her Quake-attack against one of the "Real S.H.I.E.L.D." members. It visually looked amazing, yet I wasn't sure whether to be frighten by how fast she has started to gain control of her powers or not.
The episode ended with Coulson meeting up with Hunter, who has decided to take Coulson's offer and join S.H.I.E.L.D. full time as the two of them get ready for what looks to be a Civil War-ish situation for S.H.I.E.L.D.
Overall, this episode of Agents of S.H.I.E.L.D. really lifted a lot of things up for me after a couple dour weeks in a row. Six episodes remaining in Season 2. Bring it on, Agents of S.H.I.E.L.D.
Marvel's Agents of S.H.I.E.L.D. airs on Tuesday nights, 9/8c on ABC.